'Green' roof looks to help keep life of building
15 November 2010
By Jordan Russell, Assistant News Editor
No Comments
Tour of complex College of Liberal Arts highlights key efficiencies
There's only one building on campus that can cool itself down with outside air, sense how much light it needs to give and has flooring that gives off heat.
That building would be the Center of Liberal Arts, a symbolization of the university's efforts to save energy in the future, according to Stephen Kolb, renewal and replacement coordinator for facilities management.
A tour was led by Kolb on Wednesday to spotlight the building by showing its environmentally friendly qualities and features that are beneficial to those inside.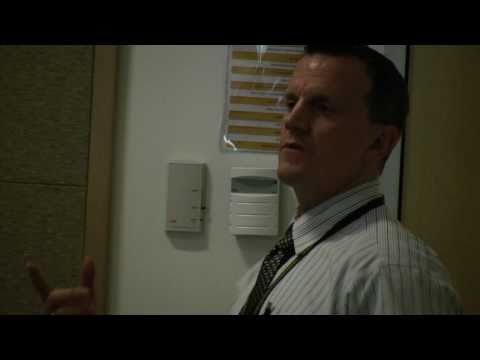 "Lots of students, I don't think, know how awesome this building actually is, and we just wanted to raise some awareness about it," Student Government Association director of civic engagement Elliot Glotfelty said.
Kolb talked to those on the tour about different features in the building such as the 80 percent recycled material carpeting, the certified reusable wooden floors, sensors that turn the lights off when someone exits a room and carbon dioxide sensors that shut air off when people exit.
"I thought [the tour] was awesome, seeing how Towson is being more sustainable," junior Brendan Bonita said. "Overall, it will save energy, save cost [and] save money on tuition, which is great."
The first of the highlights of the CLA is its partially vegetated growth on the roof. Plants cover a good amount of the roof and capture heat to put less pressure on the cooling system. It also is able to absorb water to help prevent flooding.
The other is the building's energy management system, which is literally connecting the building to the Internet, according to Kolb. It allows the building's information, such as lighting and heating, to be viewed in real time on the computer.
Kolb said the University is trying to expand the system across the campus.
Kolb said he wants to let students know more about the CLA.
"My goal is to get the word out to the students so the students are proud and know what kinds of things are going on everyday, because this is their learning environment," he said. "[The University's] goal is to make the learning environment as comfortable and efficient as possible and make it an overall good place to be."