Towson featured on 'Ellen DeGeneres'
12 October 2011
By Alissa Katz, Senior Editor
One Comment
Talk show star Tweets to attract fans
Comedian and TV host Ellen DeGeneres likes to play games with her fans, namely through means of social networking.
On Tuesday, Oct. 11, DeGeneres started Tweeting to her followers, telling them something big was going to happen at Towson University Wednesday at 7 p.m.
"Ellen loves Twitter," Jeannie Klisiewicz, DeGeneres's receptionist and on-air correspondent said. "She loves giving challenges."
One of producers of "The Ellen DeGeneres Show," Aaron Pinkston, is from Maryland and has friends who attend Towson University, according to Gay Pinder, media relations specialist for Towson University.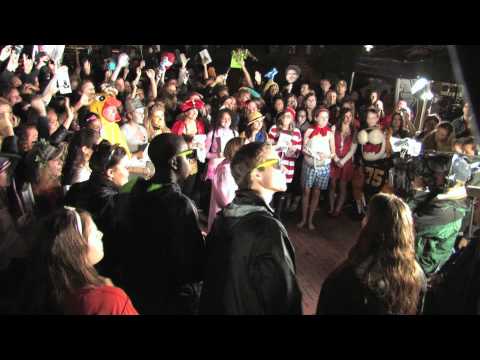 "He suggested to Ellen that she might want to come to Towson and she loved idea," Pinder said.
Word spread quickly through Twitter and other social networking avenues like Facebook.
"I first found out on Facebook, then it was advertised on Twitter," freshman Nicole Pacifico said. "So we just kept up on Twitter all day long."
Freshman Michael Bell said he did the same.
"I was looking at the Tweets all day trying to figure out what she was going to say and what she would make us do," he said.
On Wednesday afternoon, students and fans of DeGeneres found out a few more details. DeGeneres Tweeted that everyone should show up to the West Village Commons with a copy of her book and dressed as a fictional book character. No other details were revealed at that time.
More than 300 people filled the Commons area by 5 p.m. to find out what DeGeneres would tell her fans next. A majority of attendees were decked out as various fictional characters, including Winnie the Pooh, Harry Potter, and the Man in the Yellow Hat from Curious George, among others. Pacifico, Bell and junior John Tune showed up as the Three Blind Mice.
Junior mass communication major Ayelet Cohen came to the event dressed as Raggedy Ann.
"I saw that she Tweeted yesterday and today," she said. "I just love Ellen. I'm excited," Cohen said.
Around 7:15 p.m., a camera crew filmed students and other attendees for the show, which is set to air Thursday. That's also when DeGeneres presented her something big EM DASH anyone who had a copy of DeGeneres's new book, "Seriously… I'm Kidding," needed to pick a part from it and act out an interpretive reading for a chance to win $5,000 in gift cards to Barnes & Noble.
The contest's winner was revealed as the last segment of the show. DeGeneres chose the Three Blind Mice as the best-dressed readers.
"We don't even know what we'll do with the money," Pacifico said.
Tune said he was overwhelmed, too.
"I can't even count that high," he said. "We have no idea what to do with it all."
Vice President for Student Affairs Deb Moriarty said Twitter helped spread word of the event quickly.
"I think one of the most amazing things about today's program is what Twitter was able to do in terms of getting the word out to everybody," she said.  "I was hearing it from people way before I heard about it [online]. It's just a great way to connect students on campus and help them connect with each other. And it's just something we're going to have to keep using."
–Assistant Arts & Life Editor Megan Flannery contributed to this article.