Student files discrimination complaint against Applebee's
9 November 2011
By Lauren Slavin, Editor-in-Chief
9 Comments
Towson University junior Courtney Haywood said she went to work Oct. 31 expecting a mediation meeting with management regarding a discrimination claim.
Instead, she was handed a termination letter.
After making several complaints to no avail that a manager at the Towson Applebee's Neighborhood Bar and Grille was harassing her and that she was only assigned to tables of black customers, Haywood has filed a complaint of racial discrimination with the Equal Employment Opportunity Commission.
"It felt unfair and it shouldn't happen to you," Haywood said.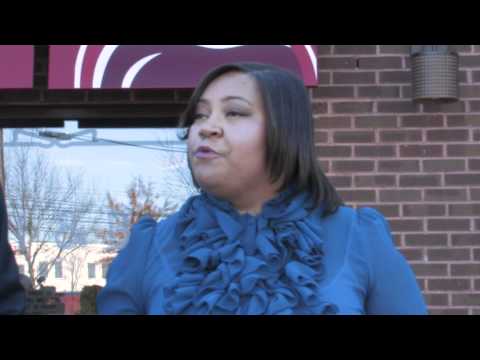 Haywood, former Applebee's employee Raenelle Cole, and Director of the National United Youth Council Salaam Ismial held a press conference outside the LaSalle Road Applebee's in Towson Tuesday, Nov. 8, to make the public aware of the way this particular Applebee's treats its employees, according to Ismial.
"This is courageous for Courtney to step up," Ismial, who is also Haywood's uncle, said. "You do have rights, and it's best to file a complaint than not complain at all."
At the press conference, Bob Hughes, Applebee's Area Director for district six, would not comment on the situation regarding Haywood's termination.
Hughes is an employee of The Rose Group, a restaurant managing company that owns and operates 59 Applebee's on the Eastern Shore.
Communications firm Diccicco Battista Communications released a formal statement regarding the organization's response shortly after the press conference.
"We take these allegations very seriously. We're fully committed to creating a fair work environment for all of our team members," the statement read. "We have not received a copy of the alleged complaint, so we do not have any further information to offer at this time."

Under new management
Haywood, a 23-year-old single mother, started working at Applebee's in 2007 as a way to fund her education at Towson University. In May 2011, the Applebee's acquired new management, and the restaurant was "shot to hell," according to Haywood.
"All of us as workers were unhappy with the direction of the staff and how things have gone awry, if you would say that," Haywood said. "I've never been one to be quiet about anything. A lot of my co-workers there look to me as if I were a mom figure, because I do have a child."
Under old management, Haywood said she often assumed the responsibilities of host, server, bartender, cook and manager, though she was employed as a server.
Under new management, she said her workload wasn't an issue, but something a co-worker and several of her customers brought up to her became the launching point for several complaints.
Black customers predominantly occupied the tables she was assigned to serve, according to Haywood.
Haywood said she noticed other servers requesting that hostesses seat customers of specific races and genders in their sections, many specifically not asking for black patrons.
"There's a stereotype through the server community that black people don't tip," Haywood said. "They prefer to have white tables … You're making the assumption every black person that comes in here is ghetto and doesn't tip."
Making concerns known
Haywood began approaching her co-workers when she saw them request gender or race-specific customers, and if her guests asked her why they were surrounded by only black patrons, she said she would be honest with them. Applebee's prides itself on employee/customer relations, according to Haywood, saying servers are "relationship makers, not order takers."
Reprimands and written warnings were issued to Haywood for improperly handling her complaints.
"I'm not one for lying to my guests. I have large clientele," Haywood said. "I speak with them not just on business terms, but actual conversations. They're like friends to me. If they see I'm not happy, they ask me why I'm not happy. And I'm not going to lie to them, I tell them the truth."
Applebee's offers employees a hotline to report when the restaurant's code of conduct, which includes anti-discrimination as a policy, is not followed.
Haywood said she made several complaints regarding violations of this code of conduct. On Sept. 27 and Oct. 27, Haywood said she asked for mediation with the management staff. Her first call was returned to ask for more details about the complaint, but no further action was taken, according to Haywood.
She said she also spoke with the various managers of Applebee's about her concerns.
"I talked to a manager, who kept saying, 'I will take care of it, don't worry about it.' And nothing was taken care of," Haywood said.
The final days
Separate from her complaints about unbalanced guest placement according to race and gender, Haywood took issue with the way one manager in particular began treating her.
Instead of being trusted with the responsibilities former managers assigned to her, Haywood said her new general manager would follow her throughout the workday, asking her to complete tasks she couldn't manage in a short period of time while still serving tables in her section. The manager never referred to her by her name, but instead called her "Lady."
Haywood's growing file of warnings proved detrimental to her process of complaining on Oct. 28, after a second call to the Applebee's hotline was made and Hughes spoke to her about the various complaints.
"He said, 'You don't have such an impeccable record with us,'" Haywood said. "He had already made up his mind."
Haywood said she believes her termination was passed down from Hughes. The grounds she was provided with for her termination were "conducting herself in image that is detrimental to the company, failing to maintain harmonious working relationships and being uncivil toward others."
"How can you say I'm being insubordinate when I took strides to do what I'm supposed to do, but didn't do it on your time," Haywood said.
Informing the public
Haywood and Ismial both said the purpose of Tuesday's press conference was not to boycott Applebee's.
As customers left the restaurant, Haywood, who often recognized their faces, handed out colorful fliers about the case she filed with the EEOC.
"Thank you for speaking up," one woman said as she returned to her car. "That's the last time I order from Applebee's."
"Hopefully something positive comes of this," another customer said.