New Towson University President looks toward future
20 February 2012
By Lauren Slavin, Editor-in-Chief
No Comments
While the Maryland General Assembly meets in Annapolis, the presidents of the University System of Maryland institutions have left their campuses to fight for affordable tuition and salary stability at the state Capitol.
But Towson University President Maravene Loeschke didn't spend Friday afternoon at a budget hearing.  She visited the men's basketball team in the Towson Center the day they fell to the New Hampshire Wildcats in their sixth consecutive loss.
"It's been tough for them and they've played with such character and determination and guts and I'm so proud of them," Loeschke said.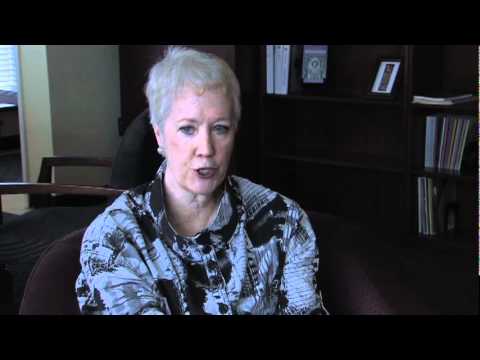 A balance between internal and external relationship building is what Loeschke said she hopes to achieve in her time as the 13th president of Towson University.
"I'm down in Annapolis a couple time a week. But I'm attempting to make sure my schedule has within it at least one thing, if not more, to be with students," Loeschke said. "I don't want to be the external president who's never met them. I think students will be seeing me a lot. I hope they don't mind, because I love it."
Loeschke has already attended the spring Involvement Fair, a Student Government Association weekly session, sporting events, and recently began a "listening tour" around the various academic buildings, where faculty and staff concerns and questions about the 2016 Strategic Plan can be addressed.
And Loeschke is familiar with the struggles of almost every Towson University stakeholder.  She is the second president of Towson University who attended the institution as an undergraduate student. She was also a master's candidate, faculty member and college dean at Towson.
"As a president I don't come in and say, "We're doing this, we're doing this, we're doing this,'" Loeschke said. "It's conversation, and we decide together what our priorities are. I represent all the alums, I represent the students, and so I feel the weight of getting it right very strongly."
Loeschke's presidency marks a new era for Towson University after a growth period marked by fundraising for campus construction. But Loeschke said she still aims to make physical changes to campus, including a "beautification" project that would line the brick path to the College of Liberal Arts Buildings with the international flags of Towson students, which would be paid for through donations.
"That beautiful walkway that goes in front of the Liberal Arts, it gets us there, it's very lovely. But there aren't benches yet to sit down on. There're not tables where you can stop to have lunch," she said. "I want our international students to be able to look up and see their flag. It's very important to me because I know how important it is to them. And it reminds Towson and the Towson University community and the Towson community that the world is a lot bigger than just us."
Fundraising and budget balancing are going to be crucial for Towson in this economic period, according to Loeschke, who faced serious budget cuts at her last institution, Mansfield University in Pennsylvania. In May 2010, $4 million in budget cuts at Mansfield led to faculty layoffs and larger class sizes for students, The Towerlight reported in September. Cuts in state funding for higher education were also made in March 2011, which led to a 7.5 percent tuition increase and a five percent drop in enrollment at Mansfield University.
But where Pennsylvania lacked in a government supportive of higher education, Maryland does not, according to Loeschke.
"I'm concerned for every institution in America in this economy. At a time like this, funds for higher education are very vulnerable. I don't sleep about it, because I really want you all to have a great education, and if we get too much cutting back, it's going to be more and more difficult," Loeschke said.
And while Loeschke recognized that she has big shoes to fill as she takes on the next challenges of Towson University, she said she has already walked several miles in them.
"If I had gone to the University of Minnesota or something, I would have spent some time learning to love it. Not here," Loeschke said. "Here I was student just like you, with dreams just like you, with concerns just like you, debt just like you, a part-time job just like you, and I know what it means to do that here. I want as many student lives to be transformed because of what I do every day as is humanly possible. That's really almost all I care about."