Student groups, Greek life boogie for charity
26 February 2012
By Nicole Salem, Contributing Writer
No Comments
On Friday, Kristina Gensel danced for 12 straight hours. But instead of going to Power Plant Live! or the Recher Theatre, Gensel rocked out for charity.
Gensel attended TigerTHON, a charity event sponsored by the Office of Student Activities and members of Fraternity and Sorority Life.  The dance marathon raises money for the Children's Miracle Network at the Johns Hopkins Children's Center.  Faculty, staff and students all make contributions.
This year's TigerTHON raised more than $28,000, more than $10,000 from last year.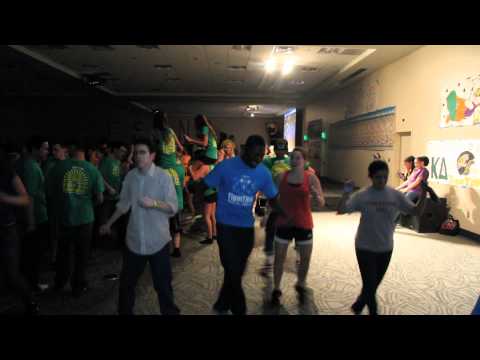 "I think TigerTHON is a really good opportunity for chapters on campus to get out, interact with one another, and strengthen Greek Life bond as a whole," Gensel, a member of Tri Delta, said.  Gensel said she had an opportunity to socialize with sisters from other sororities as well including, Kelly Spann from AEPhi.
"It was a lot of fun. There were some good throwback songs that everyone sang along to," Spann said.  "No one really cared about looking cool, it was all about having fun, plus it was for a good cause."
Sorority Phi Mu, fraternity Kappa Sigma and student group Latin American Student Association all received honors at the event for raising more money as a team, and having individuals present all 12 hours of the event.
TigerTHON is a branch of THON, one of the largest student-run philanthropies in the world. THON was founded in 1973 at Pennsylvania State University.
The movement spread to various universities across the country, and involves a year-long effort with more than 15,000 student volunteers. The organization has raised more than $78 million, according to the THON official website.