Tigers shoot down Ducks 16-5
21 February 2012
By Andrew Constant, Sports Editor
No Comments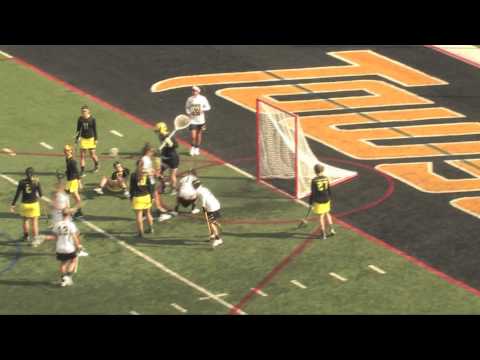 Andi Raymond scored the first three goals of her career to aid a balanced attack for the Tigers in their season opening 16-5 victory over the Oregon Ducks Tuesday morning at Johnny Unitas Stadium.
After recording three assists in her freshman season, Raymond found the back of the net for the first time in her college career just 64 seconds into the game. She added another goal in the first half before scoring on a free position shot midway through the second half.
"Up to this point she's playing tremendously well, practicing so well," Head Coach Sonia LaMonica said. "I expect her to have a really grand year. Today was certainly a great way to start for her."
Junior Kelly Custer and sophomore Katie Leech each added three goals for the Tigers. Leech also added an assist on Ashleigh Rohrback's second goal of the game to give her a team-high four points on the day.
The Tigers led 8-4 at halftime, but were forced to make several adjustments at intermission to extend their lead.
"I thought our second half was a much stronger half. We made some adjustments defensively," LaMonica said. "We were a little more aggressive and forcing Oregon to make some mistakes. Mary [Teeters] had a great second half, which helped as well, and our offensive production was pretty solid."
Teeters made 10 saves for the game, including nine in the second half for the victory. The Towson defense locked down the Oregon attack in the second half, limiting them to just one goal and a paltry 11 shots. For the game, Towson out shot Oregon 26-18.
"Our style of defense, traditionally, has been rather aggressive: sliding to double early and sometimes helping create offense for the opposition," LaMonica said. "So going into the game, we wanted to be a little more conservative with our slides and make them beat us one-on-one. But that left our defense on their heels a little bit. They seemed to be a little bit asleep for a while, so in the second half we adjusted a little bit to get more aggressive on the ball and just apply more pressure but still working to be disciplined and remain in control."
Last season, LaMonica harped on the fact that her squad struggled to clear the ball out of their own end. But against Oregon, the Tigers were 17-19 in clears, including a perfect 7-7 in the first half.
"We've worked a lot on clearing and we've talked a lot about patience, taking our time with everything," LaMonica said. "We have never had to encourage our team to push the ball in transition, because they just seem to be wired to do that, so we've worked on having a lot more patience in our clearing, in reversing the ball and just taking care of the ball."
Towson was also efficient on the free-position shots, converting on 5-6 chances. Rhiannon Coogle, Custer, Leech, Raymond and Ashley Waldron all connected on their free-position opportunities. The Tigers closed the game on an 8-1 run, with a lot of the offense joining in on the party.
The Tigers have eight days off between games, with their second matchup of the season next Wednesday afternoon against local rival UMBC. LaMonica said that there are a few things that her team will work on before taking on the Retrievers.
"We need to preach patience on our shooting," she said. "I think we had a lot more opportunities that we didn't finish, so just being able to put the ball in the back of the net. Also, we need to work on some of those 50-50 plays and the ground balls. We seemed to run over a bunch of ground balls, so we need to do a better job of getting those balls in our sticks. So those will be our biggest areas of emphasis this week."