Campus forum becomes heated debate on issues of race, safety
9 March 2012
By Jonathan Munshaw, Associate News Editor
30 Comments
An open discussion about racism and acceptance at Towson University turned into a debate between the Youth for Western Civilization and students who believe the group should be punished for some of the phrases they have allegedly chalked on campus about other student groups.
Ignacio Evans, vice president of the Black Student Union, was the first student to speak at the forum on Thursday. He said hate speech should not be tolerated on campus from groups such as YWC.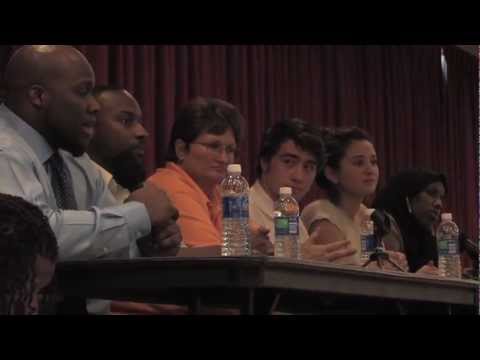 "You can't tell me there's nothing else to do when you find them saying things that go against an individual of color," he said. "You can't deny their protesting of Muslim events. The students are asking them to leave them alone. That's harassment."
Although numerous student comments at the forum were directed at YWC and group President Matthew Heimbach, BSU President Kenan Herbert said the event was designed to gauge student opinions about acceptance all around campus.
"This is about hate, bigotry and racism on campus that was here before Matt and his organization was," he said
Freshman art education major Andrew Werner said he sees intolerance on campus targeted toward black students, as well as students in the lesbian, gay, bisexual, and transgender community.
"I am proud to say that I am gay but that I am also Catholic," Werner said during his speaking time at the forum. "I personally have been accepted, but those that I'm around have not been. I have witnessed a lot of insensitivity, and as a generally caring person, I just feel that that is not OK."
Students Helping Honduras Co-President Amanda Fennell said that she felt uncomfortable on campus after reading some of the things Heimbach wrote in the "Towson YWC End of Semester After Action Report," which is posted on the YWC national website.
Fennell read a line from the report that said, "From the day of our chapter's inception, the spectrum of the radical left-wing elements at Towson University, the coalition of the pro illegal immigration groups, terrorist front organizations like the Muslim Student Association, ferociously angry gay groups of 'tolerance' like the Queer Student Union, and the disease ridden degenerates also known as Occupy Towson, all came together to attempt to intimidate and suppress our budding organization."
Heimbach said that he does not feel like the forum was productive, and that it was a very one-sided discussion on the issue of his group and students feeling unsafe on campus.
"Overall, I feel the event was a little rocky," he said. "Things have been interesting. They have been misquoting us, saying we support white power, which we don't. But when you have a group like this, emotions run high and they misquote us to try to fire up the crowd."
The tension in the room climaxed when Heimbach began debating Herbert on the issue of Evans wearing a black panther T-shirt and comparing that to the groups with which YWC is associated.
Heimbach approached the table that Herbert was sitting at with the other panel members and attempted to have a one-on-one discussion with Herbert, but Associate Vice President for Campus Life Teri Hall said that the two should sit down, because the event was not meant to be a debate.
Before Heimbach sat down, he said that if the University attempted to restrict his group's access to free speech, he would "bleed the University white of all its money."
Some student leaders and administrators said the forum was a step in the right direction, and discussion is necessary in order to come up with a solution to the issue of intolerance on campus.
Student Government Association President Matt Sikorski, who sat on the panel that moderated the forum, said that the experience was eye-opening for him and that he plans to make sure each student has their opinion heard.
"I get paid to represent all of you and make sure that all of you have your voices heard, and I have obviously failed at that," he said.
Vice President for Student Affairs Deb Moriarty said that she was encouraged by the number of students who attended the forum, but that administration can only do so much to stop other students from discussing provocative ideas.
"I do think that they're [students] right on with some of the things we need to look at," she said. "I look forward to getting staff and faculty to debrief and see what the next steps can be. I look forward to students to continue responsibly. Because some of what they're asking us to do is something we can't fix. We can't fix hate, we can't make everyone safe, but we can do what we can to present resources and opportunities to make this place as safe as possible."