Steve Martin show comes to Towson stage
4 March 2012
By Jeremy Bauer-Wolf, Arts & Life Editor
No Comments
'Picasso at the Lapin Agile' opens March 8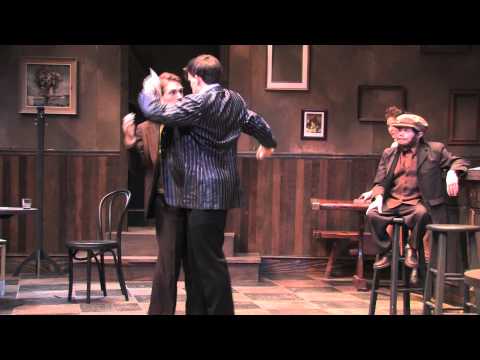 Two guys — Albert Einstein and Pablo Picasso — walk into a bar. They sit down and talk about the theory of relativity and cubist paintings.
What sounds like the beginning of a bad joke is the premise for "Picasso at the Lapin Agile," the department of theatre arts' first production of the spring semester.
The show, written by actor, comedian and producer Steve Martin, revolves around multiple historical figures.
Einstein and Picasso lead the cast as two brash young geniuses in their 20s intent on changing the world, according to Peter Wray, an associate professor of acting and directing and the show's director.
"The 20th century took a whole new turn because of these men," he said. "Steve Martin wondered what would happen if they met in a bar."
The production takes place in a Parisian café, the Lapin Agile (French for Nimble Rabbit) in 1904.
The Lapin Agile is based on a real-life location, a hotspot for artists and scholars.
Senior theatre major Jon Dallas, who plays Picasso, said the show draws the audience in by relying on the bar setting. The audience should feel as though they are sitting with the characters.
"The characters, whether it was the casting or the way we built the characters based on our personalities, are interacting with each other [by] just talking," he said. "Just people talking to each other. Those are actually the funniest times, being ourselves in our role."
A lot of the blocking and timing resulted from that type of experimentation, according to senior Alec Weinberg, who plays Einstein.
"We would say, 'Oh, this is ridiculous, I would never do that really on stage.' But that would end up in the script," he said.
Senior Michael Perrie Jr., who portrays a mysterious stranger, agreed, and said that the timing of the script is key.
"It's not as simple as being funny. You can't 'play' funny, otherwise it's not funny anymore," Perrie said. "You have to make it honest and live in this world he creates. You have to play it like it's reality, like nothing is funny."
Perrie said that the worst comedies force humor upon an audience.
"The best comedies rely on the way humans would react to situations that they are put in," he said. "When you keep someone aware the entire time that there's a joke, they're not going to laugh."
Wray has collaborated on "Picasso" twice before and said he selected it to test his actors' comedic skills and experiment with contemporary humor.
"There's some philosophical humor in there and a real matching of wits and ideas," he said. "And a collision of ideas, which again, Steve Martin did his homework on. He imbeds them beautifully while we're laughing. It's a very smart comedy. I wanted to give students an opportunity to work on the ways different comedy is constructed."
Wray said one of his favorite elements of the play is the fact that the audience listening to the characters' banter is an example of Einstein's theory of relativity.
"In a nutshell, it says that two people in different places will see the same event in a different way," he said. "That's also incorporated in Picasso's 'Les Demoiselles d'Avignon,' women seen from different perspectives simultaneously. Steve Martin adroitly points out that theater is the same way: You have characters in a world, looking at it from one perspective, and an audience, looking at the world from a different perspective. It's genius, right there, to me. The whole play is."
"Picasso at the Lapin Agile" premieres March 8 at 7:30 p.m. in the Center for the Arts Studio Theater, and runs until March 15. Tickets are $20 for adults, $10 for students and seniors.