Tigers shut out in second half
15 April 2012
By Sam Smith, Associate Sports Editor
No Comments
TU falls out of third place in CAA after loss to No. 16 Penn State before 2,424 fans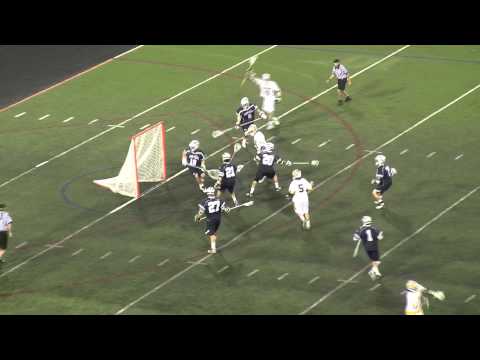 The Tigers (7-5, 2-2 CAA) lost possession of third place in the Colonial Athletic Association standings Saturday night with an 8-3 loss to No. 16 Penn State (7-5, 3-1 CAA) in front of a season-high 2,424 fans at Johnny Unitas Stadium.
"People care about Towson lacrosse, and it is as important to them as it is to us," Head Coach Shawn Nadelen said. "We've got to uphold our end of the deal and give them something to be excited about."
In a conference that only invites four teams to its championship tournament, Towson is now in the fourth spot and can control its postseason hopes with just two games left on the regular season schedule.
Despite going into halftime down one at 4-3, the Tigers went scoreless in the second half. For the second straight game, the Tigers only mustered three goals.
"We got a long road ahead of us if we're going to make a habit of only scoring three goals in a game," Nadelen said. "We're asking a lot out of the defense. We're asking a lot out of [goalkeeper Andrew Wascavage], and he's been playing phenomenal the last three games. We just didn't finish and didn't play the way that we've shown the ability to play offensively. We made a good goalie look great by shooting it at his feet or his head."
By tying his career-high with 17 saves, Wascavage has been counted on to make 49 saves in the past three games, facing a barrage of 136 shots in that span. In all, Wascavage kept the game closer than it should have been, considering he faced 39 shots compared to Towson's 28.
"I just stay focused on what I am doing and try to stop every ball," Wascavage said. "I don't really try to look at the score too much, and think that we're down and I need to make a save. I need to make every save, so it's not really about what's going on."
The only two blemishes on Wascavage's game were being caught out of net twice, which led to two easy Penn State goals.
"The first one, I think it was more my fault. I went out too quickly and just kind of rushed out there and I didn't take a good angle and I got beat top-side," Wascavage said. "The second one, I did a good job of letting the [defenders] get set up and push it inside, but again got beat top-side."
Towson's faceoff struggles continue, as the Tigers three face-off men won just four of 14 faceoffs in the game and have one just nine faceoffs in 33 tries in the past two games. Nadelen tried to shake up the playoff unit by using freshman Luke Pellizzi, who appeared in the first game of his career. Pellizzi won one faceoff in four attempts.
"Luke just got back into practice this week. He's a freshman who is coming off an extensive concussion injury," Nadelen said. "We got to understand who we have and maximize our ability with that."
In the second half, Penn State sophomore attack Steve Sturgis scored twice to record his hat trick. Senior attack Matt Mackrides scored early in the fourth quarter to add to his two first-quarter goals and get his own hat trick.
Towson senior attack Sean Maguire had his 14-game consecutive point streak snapped, as he drew a blank on the scorecard.
The Tigers will face second-place Drexel next Saturday in Towson's final home contest of the season at Johnny Unitas Stadium.