Towson runs past Hofstra behind Raymond's huge night
13 April 2012
By Andrew Constant, Sports Editor
No Comments
Sophomore scores eight points to keep Towson in first in CAA
Behind a career-night from Andi Raymond, Towson remains in first place in the Colonial Athletic Association with a 16-9 victory over the Hofstra Pride Friday night at Johnny Unitas Stadium. Raymond scored four goals and added four assists for a career-high eight points to lead a balanced attack from the Tigers' offense, which saw nine different players score goals and 10 players record at least one point.
"Great overall effort from the entire team in putting together an entire 60 minutes," Head Coach Sonia LaMonica said. "Tonight's effort is what can happen when you compete hard and play together as a team. You finish your shots, this is what happens. The players stuck to the game plan, and we're excited to take this momentum into our next game."
Towson got off to a fast start, scoring twice in the opening 40 seconds of the game.  Sarah Appelt and Ashley Waldron gave the home team a quick lead. But the Pride answered with two of their own to knot the contest at two at the 26-minute mark.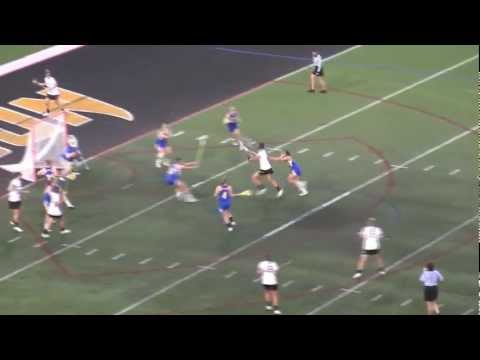 From there on out, the Tigers dominated the scoreboard, building a 6-2 lead and never looking back en route to their fourth straight conference win. Towson is  7-1 this season when they score the game's first goal.
"We came out firing and the players were really excited for tonight's game," LaMonica said. "They scored a quick couple to tie the game, and we knew that it was going to be an intense, up-tempo game. But we continued to keep up our intensity and we played aggressively on the offensive end and handled the pressure defensively."
Raymond started her career-night with an assist on Paige Duncan's first collegiate goal early in the first half and found the back of the net for the first time with just four seconds remaining in the opening stanza. She continued to stay hot after intermission, assisting on Olivia Turner's seventh goal of the season and then scoring back-to-back goals to give her team a 12-6 lead. Her fourth goal of the night, which gave the sophomore a team-high 24 this season, was part of a 5-1 Towson run that  put the game out of reach for Hofstra. Kelly Custer had two of her three goals after halftime, and Appelt also recorded a hat trick for the Tigers, who are perfect at home in 2012.
"It's awesome to see a lot of players being successful and it's a real confidence booster, and that's something that we've needed at this point in the season," LaMonica said. "Their defensive strategy forced us to play up-tempo and to be aggressive and work together to find the openings. When that happens, you're going to find a lot of people involved."
Hofstra was whistled for 41 fouls in the contest, which slowed the pace of the game. But Raymond said that didn't affect the way she and her teammates play the game.
"We just have to play our game and not worry about what they're doing," she said.
Towson's defense, once again anchored by goalie Mary Teeters, controlled Hofstra's attack and limited the amount of solid chances that the Pride had to score. The Pride was just 9-25 shooting, and Teeters made nine saves for her 10th victory of the season. Teeters came into the game with the fifth highest goals against average in the country at 8.09. Towson is now 15-3 under LaMonica's direction when they hold their opponents to less than 10 goals.
The Tigers travel to Drexel on Sunday for a matchup with the Dragons at 1 p.m. Drexel entered Friday's play in fifth place in the CAA standings at 1-2 in league games.