Rise of the Divine Nine
9 May 2012
By Jeremy Bauer-Wolf, Editor-in-Chief
6 Comments
NPHC seeks expansion in coming semester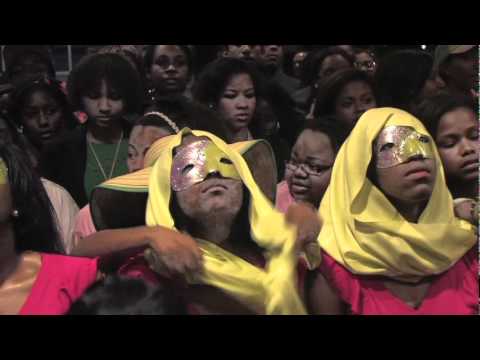 Cloaked in yellow hoods and golden masks, a line of women moved in harmony. They stood one behind the other, their hands grasping the hips of their partner.
They were led by women in blazers and dresses adorned with glittery pins reading "A.K.A." The women floated around the line, occasionally stopping to fix a strand of stray hair or pull up a fallen hood. They must take care of their sisters.
"Alpha Kappa Alpha," the women of the line chanted, snaking to the center of Freedom Square Tuesday night through a crowd of students wearing Greek letters and yelling words of encouragement. Then the women of the line lifted off their masks.
A similar scene occurred two weeks ago with the Delta Sigma Theta, Sorority Inc. — it is a ceremonial in-take process, a probate, that marks the coming out of the sisters of AKA and Delta Sigma Theta. After months of pledging, the ritual is followed by all the chapters within the National Pan-Hellenic Council, informally known as the "Divine Nine."
The Nine represent a group of historically black sororities and fraternities. Currently, five are recognized by the University. This year, Delta Sigma Theta crossed 34 new members into the city-wide Mu Mu chapter of their sorority, a record number, according to senior member Desiree Dickson.
This number may seem small in comparison to membership of the Panhellenic Association, which comprises many of the traditionally white sororities. But Dickson said that Delta does not recruit every year for cultural reasons.
Before the in-take, Dickson said that her chapter had only five members. The last line crossed was in fall 2009.
"It's not hard to find numbers," Dickson said. "It's more so a traditional thing. We're not the type of organization that brings in every year a large number people because of how we function. Membership in-take is near and dear to Delta's heart because the new initiates carry on the legacy. It's definitely about making sure … the people that we choose are definitely the ones to continue the persona we have on campus. We are hard-working people, it's not just about partying, it's about making sure you help someone in need and working toward a better cause at all times."
Recruitment is a longer process for the NPHC, according to Dickson.
The process can take more than a month before the members are initiated. And throughout that time, pledges and sisters are together all the time and constantly participate in bonding activities.
"It's definitely about being strict on yourself," she said. "You have to discipline yourself. It's a learning task. You go from being an individual to being part of this line and being one at all times."
Senior Billie Shabazz, a sister of Sigma Gamma Rho Sorority, Inc., said that her chapter only has eight members, and that the recruitment process creates a more intimate feel among the sisters.
"With Panhel, I feel like it's a bit more formal with bigs and littles," she said. "With the NPHC and our six new members, I consider them all my littles, they all consider me to be their big. It's my responsibility to help the whole class."
Shabazz said while she appreciates the rich sisterhood they share, the low membership numbers likely contribute to why the Panhellenic Association receives more visibility.
But the new members, or neos, have formulated a goal to cross-collaborate more across councils, she said.
Collaboration has improved across the board for Greek life 50 to 60 percent since 2009, according to Calvin Smith, coordinator of Fraternity and Sorority Life.
Smith and Matt Lenno, director of Greek life, implemented a Chapter Assessment Program that they borrowed from the University of Delaware, where Lenno previously worked. CAP tracks cross-collaboration between councils and chapters.
Smith also said that the program has brought a sense of consistency to NPHC recruitment in that the chapters are required by a certain time to advertise and determine a date for interest meetings and other recruitment events.
"Before, they were just doing it themselves," he said. "The University had no part, but now we're bringing the groups in."
Smith, a member of Kappa Alpha Psi Fraternity, Inc., a Divine Nine organization, said he enjoys seeing the expansion of NPHC.
"There's a large minority population at Towson," he said. "These students want stuff to do on the weekend, and the NPHC's role is to create that some kind of atmosphere, cohesiveness to the students that they serve. They're catering to a different crowd."
Smith also said that Iota Phi Theta Fraternity, Inc. of the NPHC will possibly reactivate in the fall.