Towson falls to Penn State
12 May 2012
By Andrew Constant, Senior Writer
No Comments
Tigers' 10-game winning streak comes to an end with 15-8 loss
The Tigers' program-record 10-game winning streak came to an end Saturday, as former Towson Head Coach Missy Doherty and her Penn State Nittany Lions edged Towson 15-8 in an NCAA Tournament first round battle at Johnny Unitas Stadium.
Penn State outscored Towson 9-3 in the second half to come away with the victory.
Towson hadn't lost since March 27 when  the team fell 13-3 to Maryland, and had won all 10 of its home games this season prior to action Saturday.
In their previous home games, the Tigers averaged 13.4 goals per game, but they were unable to get their offense rolling against the Nittany Lions.
Penn State's senior goalie Dana Cahill made six saves to earn her 12th win of the season and the rest of the Nittany Lion defense put the clamps down on Towson's offensive stars.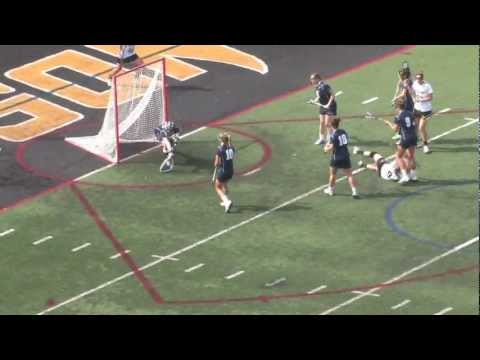 "We didn't have a lot of shots today and we just needed to get more shots off," Towson Head Coach Sonia LaMonica said. "There were a few that probably should have been goals and we had some mental errors, and it wasn't a characteristic game for us, I don't think."
Sophomore attack Andi Raymond scored with 10 seconds left in the first half to cut Penn State's lead to one at 6-5, but after intermission, the Nittany Lions scored the first five goals to open up a lead that they wouldn't relinquish.
"In the first half we clawed our way back into the game and we had the momentum, I thought, going into halftime," LaMonica said. "In the second half, they broke the game open a little bit, unfortunately. I think our girls continued to fight and work hard, but ultimately we just struggled in some areas on the field, especially the draws when we really needed them."
Penn State's Haley Ford and Molly Fernandez recorded hat tricks for Doherty, who served as Towson's head coach for seven seasons.
During Doherty's time with the Tigers, she had an overall record of 79-46, made four NCAA Tournament appearances and won three Colonial Athletic Association Championships.
It was the first time she'd coached against Towson since going to Penn State, but said she was more excited about coming up with the victory for her new school than facing her old one.
"One of the players asked me that after the game and it was more exciting to win with this team [Penn State]," Doherty said. "It was harder to start the game, but as the game went on it was just like coaching Penn State and being excited for what we were doing out there. It wasn't personally more of a difficult thing for me. Obviously I like those players a lot, I respect them a lot and it's not an easy team to coach and play against because I recruited a lot of those players to Towson. There was a great pride in Penn State today and I was really proud of our girls and those emotions and the pride for Penn State outweighed anything else."
Towson had a record-breaking season in 2012.
The team set school records with its 16 victories and its 10-game winning streak.
Underclassmen like Raymond and Ashleigh Rohrback helped carry the offense throughout the year, and freshman defender Michelle Dufault showed promise as one of the top players in the CAA.
LaMonica said she was proud of the way her upperclassmen played this season.
"Obviously it stinks, this loss, but we've had a great, great season and I have a lot of pride in this team and these players and the way that they've battled all year," LaMonica said. "We overcame a lot of adversity through the year, with injuries and a lot of the ups and downs that you deal with. It's disappointing because we have that expectation that we want to be successful and we want to win, so it's a tough loss. But I can't give enough credit to this team and the seniors who led us this year and that's going to serve us well in the future."