Year in Review: Sports
14 May 2012
By Towerlight Editorial Staff
No Comments
Football: The Tigers had a record-setting season.
Along with making the playoffs for the first time at the Division I level, Head Coach Rob Ambrose won the Eddie Robinson award, which honors the best coach in the Football Championship Subdivision, and was recognized as CAA Coach of the Year.  Running back Terrance West was awarded the inaugural Jerry Rice award, given to the most outstanding freshman in the FCS, and was named CAA Rookie of the Year.
West, Jordan Dangerfield and Frank Beltre were named to the All-CAA First Team while Hank Glackin and Derrick Joseph were named to the Second Team and Eric Pike and Tyler Wharton were named to the Third Team.
The CAA Champion Tigers posted a 9-3 record before having their National championship dreams snatched away by the Lehigh Mountain Hawks in the second round of the NCAA playoffs.
Towson is returning the majority of the starters form last year's team and will look to build off last season's success.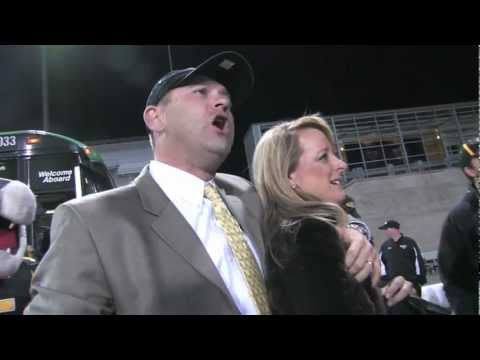 Men's Basketball: 
The men's basketball 2011-2012 season was historically unsuccessful, finishing with just one win and 31 losses. The team also set a NCAA Division-I record by losing 41 consecutive games dating back to the 2010-2011 season.
Head Coach Pat Skerry and his coaching staff have been hard at work to assemble a recruiting class that should help the Tigers to be more competitive in the Colonial Athletic Association.  They will have the services of three Big East transfers to go along with a junior college transfer. In addition, the team will have an exciting freshman class coming in, featuring players like guards Barrington Alston and Frank Mason.
Next season, the Tigers should be immensely improved in the ball-handling department, which will open up the floor and create more scoring opportunities.
Obama: Over Thanksgiving break, President Barack Obama, along with first lady Michelle, attended the men's basketball home opener against Oregon State. Michelle's brother, Craig Robinson, coaches the Beavers, who beat Towson in a 66-46 match.
The game seemed to attract more than one celebrity, as "Ghostbuster's" Bill Murray sat courtside as well, supporting his son Luke Murray, an assistant coach for Towson. Police beefed up security, conducting fans through searches with a metal detector.
A bomb scan was also performed.