'Love Letters' kicks off Inauguration
9 September 2012
By Brandi Bottalico, Associate News Editor
No Comments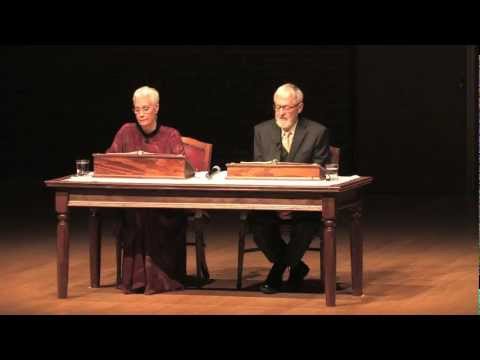 For the first time in many years, President Maravene Loeschke stepped onto Towson's stage in the Center for the Arts as an actress.
In A.R. Gurney's play "Love Letters," Loeschke played Melissa, the lifelong friend and lover of Andy, who was portrayed by Loeschke's husband Dick Gillespie. The play was read as a series of letters between the two and portrayed the characters lives apart from each other, but with an inescapable connection.
Through several marriages, divorces, deaths, and many holidays, the two managed to keep in contact.
Freshman acting major Allie Press thought the president was phenomenal and enjoyed how the play was set up.
"I had never seen 'Love Letters' before and I thought it was really interesting how it was just the whole story was just them writing back and forth sometimes it wasn't even a whole letter but it still told a very complete story," she said.
Student Government Association Vice President Charlotte Ridgeway said she enjoyed hearing her curse and talk about sex and teenage rebellion.
"I think it was really great to see Loeschke not just as a figurehead for Towson, but as a real woman, and she's actually a pretty comedic and a talented actress," Ridgeway said.
Loeschke and Gillespie have performed "Letters" about 20 times in the past 20 years, Loeschke said, including the Maryland Arts Festival.
"Of course we've aged over 20 years since we first did it," Loeschke said. "But the way we do it and the way we say things changes a bit because we have had different lives and experiences we are bringing to it."
Freshman acting major Taylor Rieland was inspired by the performance and it made him want to go and do a show, he said.
"We've heard all of these things like she's a part of the acting department and finally seeing something was like full circle," he said.
Loeschke said she was honored to perform here at her alma mater and the University she is now in charge of.
"I can't even describe what it's like to be back here acting," she said. "To walk onto that stage with my husband who was my acting teacher about a thousand years ago and be able to do this wonderful play, which is so beautifully written, was probably one of the best days of my life."