Q and A with Josh McVicar
9 September 2012
No Comments
How was it performing at Towson? Did you enjoy yourself?
I love a crowd, you can see when you're doing the show that people can hear it that are outside. It was definitely a fun crowd.  As long as it's a happy audience that wants to be entertained you're going to have a good show.
How did you get started in hypnotism?
I actually got started because my first job I ever had was a magician. It started in high school, I was 15 and I was a tableside magician performing at restaurants. So I started hanging out with hypnotists and they trained me a little bit from books and stuff. So I became the high school hypnotist. So during the lunch hour I would do magic, stealing watches from the principal and stuff.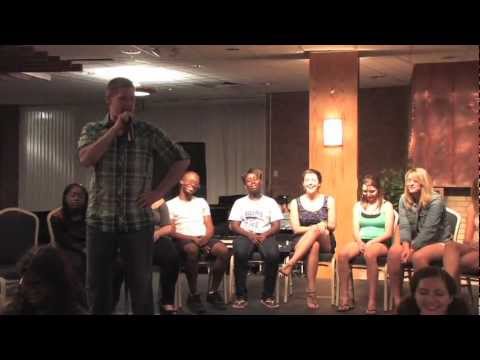 Then when it was a dead day, where you would watch a movie in class, they would just bring up some chairs and let me do hypnosis. Because we had several friends and students who were really susceptible to hypnosis, that's all we would do.
I didn't have a show, I didn't know what to do, so I would just throw out things like 'You just became the pink power ranger, go!' So I did a few professional shows that were so-so, I figured I would need a better background. That's when I trained and became a certified hypnotherapist. I trained in Vegas, I trained all over the country for the stage stuff. I went and got a good education. Because when you get in these settings, for me, the most important thing is safety first. They're having fun, I'm being entertained by them, the last thing I want to do is ever see somebody get hurt or experience something bad here on stage.
How does it feel to be hypnotized?
[With] self-hypnosis, half the time you fall asleep. I would say about 80 percent of the time I've done it I've fallen asleep. But actually for the stage show it can vary between people. Someone mentioned their heart racing quicker, and that's a sign. As people think they just go to sleep, they forget everything—that's not the case. You actually experience what is called heightened awareness. The problem is the awareness is not specifically set on me, the heightened awareness is for things around them.
When I was under, and what many people experience when they go in the state is, as I'm talking their like 'Oh god, I feel the need to move my hand, but if I move my hand is that going to bring me out of hypnosis? Oh my head just tilted, does that mean I'm hypnotized or not hypnotized. Oh those lights are really bright, I can heart the air conditioner too.' The thing is, people think that because their mind is racing, that they can't be hypnotized. But it's actually the opposite. It's bringing the conscious brain to focus on surrounding activity. The whole time I'm talking the subconscious is still focused. The subconscious is the computer of our mind.
If you could chose between stage hypnotism and helping others through hypnosis, which would you chose?
Stage. I did the therapeutic stuff for a while and I loved it. I still can do it, I still help out family members and stuff, the only problem is it's tedious. The person is in the chair, their eyes are closed, they don't react, they don't do anything. You're just sitting there, and breaking down your information and trying to discover what is the best way to help this person. It's great getting to help somebody, but at the same time I was always a professional entertainer who tried to go therapeutic and it was just like a fish out of water. I belong on stage, I like being on stage.
What types of plans do you have for the future? Any new additions to your shows?
Just randomly, a couple skits I have written down in my book, I was thinking about doing something from 'Swamp People.' I was going to have somebody wrestle an alligator or something like that. I've always had one where I give everybody sock puppets, but then give the sock puppet its own personality. But then they were both going to become sexually attracted to one-another. So then people will start making out with their sock puppets. Then I've got another one I'm working on where they get a tattoo, but then the tattoo starts to develop a voice. It's unlimited with your imagination, the problem is, how do you make that scenario entertaining?
Do you have any tips for people who want to take up hypnosis?
 Well therapeutically-train well. There are some sleazy people out there. Make sure they are guild certified—it's the closest thing we have to a licensing bureau in what we do. Train hard as well. Care about what you are doing and who you are trying to help. For the stage stuff, be respectful of your volunteers. Then most importantly, if you want to be good a stage performance show, it's about being a good performer.
– Compiled by Jazmine Johnson