Tigers split weekend against CAA enemies
30 September 2012
By Jeff McDonough, Contributing Writer
No Comments
Towson tasted victory for the first time this season, defeating Old Dominion (2-9, 0-3 Colonial Athletic Association) 3-1 on Friday, but then subsequently fell to William & Mary (9-3, 3-0 CAA) 5-0 on Sunday.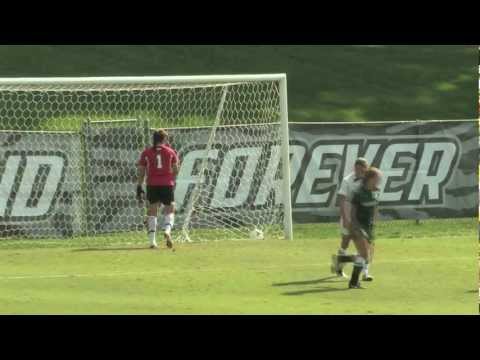 The Tigers (1-10-1, 1-3 CAA) let up the first goal of the game in the eighth minute and William & Mary never looked back from there, cruising to victory.
"We had a game plan and we didn't execute it," Head Coach Greg Paynter said. "But you've got to credit William & Mary. They played smart."
Cortlyn Bristol led the Tribe with a goal and an assist as William & Mary, who Paynter called "the best team in our conference," had five different players score.
The Tigers fought against William & Mary who is ranked first in the National Soccer Coaches Association of America/Continental Tire Poll for the Mid-Atlantic region, but the Tribe pulled away with two late goals coming in the 82nd and 88th minutes to clinch the win.
One bright spot for Towson was the play of sophomore goalkeeper Erin Quinn Sunday who faced unrelenting pressure from the Tribe.
Quinn faced 25 shots, 17 of which were on goal, and notched a career-high 12 saves.
"She's playing excellent," Paynter said. "Five goals is too many to let up, but not all of that is on the goalie. She can only stop so many."
Quinn, however, did not take all of the recognition for her performance.
"A lot of credit goes to the defense," she said. "They're always working hard. But William & Mary has a strong attack and they were able to capitalize when we made mistakes."
After Sunday's 12-save performance, Quinn now has a total of 30 saves in her last three games for Towson.
The Tigers won their home opener Friday 3-1 over Old Dominion to get their first win in 11 tries this season.
"It was nice to be here in front of the home crowd and get the victory," Paynter said.
Sophomore defender Sofia Read, junior defender Alex Evitts and junior forward Emily Banes all notched their first goals of the season to lead Towson to victory.
For Evitts, her goal in the in the 44th minute that made it 2-0, was the first in her career at Towson.
Quinn had a shutout going nearly all game until Amber Cook of the Lady Monarchs managed to get one by her in the final minute of the game.
Junior midfielder Katie Holtzapple had two assists and senior forward Cheyenne Skidmore added another for Towson.
The three goals and 18 shots were a flurry of offense for Towson, who had not scored more than a single goal in any game this season up to that point.
After Sunday's game, the Tigers now have a week off as they look forward to their next game when they host conference foe James Madison (3-9, 1-3 CAA) Sunday at 1 p.m.
"We'll have a lot of preparation and practice this week and then we'll try to go out there and get the victory," Quinn said.