White Student Union seeks legal consultation
27 September 2012
By Jeremy Bauer-Wolf, Editor-in-Chief, Brandi Bottalico, Associate News Editor, Jonathan Munshaw, News Editor
37 Comments
Student task force hosts forum on students' opinion on controversial group
Despite not meeting the requirements for Student Government Association affiliation, the prospective White Student Union has submitted an application to the SGA after receiving legal counsel.
Senior Matthew Heimbach, the prospective president, said he hopes that the University will consider the application anyway.
"Free speech advocates in Maryland are supporting our case and agree that University policies are at best in the gray or worst outright unconstitutional," he said. "Our message will not be silenced, we have the right to meet. If the University decides to overstep their legal boundaries … then they will meet definitive, quick action."
To gain SGA affiliation, a student group must draft a pre-approved constitution, and submit the names of eight prospective members and an adviser, who can be any faculty and staff member. The SGA will then vote on whether to approve the group.
SGA President Brandy Hall said that without these requirements, there is no chance that SGA will approve the group, as every other student group has had to follow the same application process. She said that many students in and out of SGA have expressed concerns about the purpose of the group.
"When a student group wants to make an organization, it's usually not hard to find eight students to join and find an adviser, it makes me say 'why can't you?'"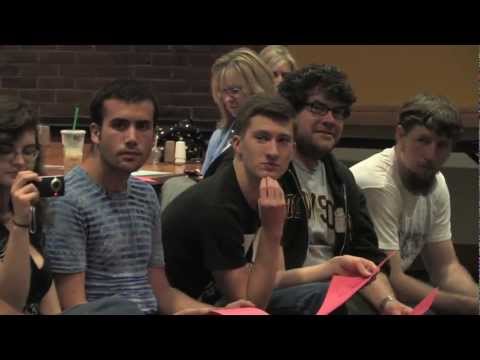 Hall said that during the forum the Student Task Force for Bias, Discrimination and bullying hosted Wednesday night, she expected Heimbach to address what events the group would hold and how they will operate, but her questions were not answered. Some students said they were intimidated by the proceedings.
"Even what they said was a bit vague," junior Ines Nassara said. "I want to go to one of their meetings and talk to one of them."
Freshman Christina Thompson said she wanted to learn more about the White Student Union.
"I've been trying to formulate an opinion about the subject myself," she said. "But both sides have such extreme views that I'm frightened by that. I feel like it's racist to not have a student union, but I feel that the student union's intention might be racist itself."
Thompson said her concerns stem from the fact that the group's perspective president is Heimbach, who was the former leader of Youth for Western Civilization, a right-wing group that gained significant media attention after their public displays against same-sex marriage and Sharia Law.
Deb Moriarty, vice president for Student Affairs, said that Heimbach will have difficulty shedding his image as the leader of YWC.
"It's hard not to tie it to the history of Youth for Western Civilization, giving some of the same students are involved," she said.
Junior Julia Chong said she does not object to any student celebrating their race, but that Heimbach's leadership concerned her.
"If you want to immerse or educate yourself," she said. "I don't see anything wrong with that. However I don't find that to be the true intent of the White Student Union and that is due to past and previous experiences if you look back at the past year."
Heimbach said that he would be willing to step down as president if it alleviated student concerns about the White Student Union.
"It's not an ego trip, it's about advancing the cause, and white students."
The White Student Union is hosting journalist Jared Taylor in its first event Tuesday, but since the group has not secured SGA affiliation, Heimbach must pay for the facility costs to rent the room. He also said that Towson University Police has demanded he pay for at least 13 police officers to attend the event, which will cost around $3,600.
Businesses and non-profits have sent funds to Heimbach to pay for the costs, he said.
"We're currently dealing with a host of issues in which legally our students might not be stopped from getting their voices heard, but there's sneaky back-handed ways where free speech comes pay-to-play," Heimbach said.
Jared Taylor, a self-described "racial realist," advocates the separation of different racial groups.
In an interview with filmmaker Craig Bodeker, Taylor said that he sees white as a dwindling race.
"The whole notion of diversity, the notion that if you fill the United States with people as unlike each other as possible, that that is somehow going to produce a great nation, that's very dangerous," he said in the interview. "And it is particularly not just dangerous but unfortunate for whites, the people who built and established this nation."
Former vice president of the Black Student Union Ignacio Evans said that the forum didn't provide a sense of what the White Student Union wanted to accomplish and would have preferred Heimbach read a mission statement for the group.
"It at least showed the students that the university is being responsive because historically before President Loeschke, the University was not responsive to a lot of these issues," he said. "I think that this task force meeting is a great way to show or gesture toward good faith. But with that being said I don't think that good faith is enough in this instance."
A White Student Union supports equality on campus, Heimbach said. The only purpose of the Union he said is not to discriminate or disparage other racial or religious groups, but to celebrate white history, heroes and culture.
"If you're against us, enjoy being a bigot because that's on you," he said.