Controversial speaker ignites community
3 October 2012
By Jeremy Bauer-Wolf, Editor-In-Chief
139 Comments
Although the White Student Union has yet to gain official University recognition, members held their first interest meeting Tuesday, featuring Jared Taylor, president of the non-profit New Century Foundation.
Taylor's profile on the Southern Poverty Law Center, a non-profit that represents and protects minority citizens and tracks they consider to be hate groups, lists him as "white nationalist," or an individual who espouses white supremacy ideology.
Taylor said in his speech that he does not consider himself to be a white supremacist, but rather, he is developing an identity for white people, who he said are diminishing as a race.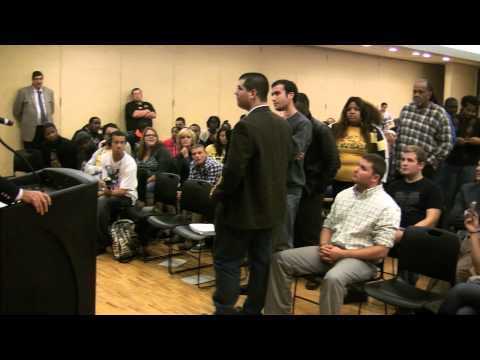 The New Century Foundation has also received funding from the Pioneer Fund, another non-profit that has conducted research about supposed IQ differences among different racial, gender, socioenomic classes, according to the Pioneer Fund website.
A representative from the Southern Poverty Law Center could not be reached for comment.
Matthew Heimbach, the unofficial president and face of the White Student Union, said that within the next two weeks the White Student Union plans to hold another event, an "affirmative action bake sale," in which they will charge different racial groups different prices for baked goods.
Whites will be charged $2, Asians will be charged $1.75, Hispanics will be charged $1, Native Americans will be charged 75 cents and black people will be charged 50 cents.
Heimbach said he is charging whites the most to illustrate the racial discrimination against whites.
Associate Vice President of Campus Life Teri Hall said that, as a non-affiliate group, Heimbach should not be able to hold the bake sale.
"Charging different races items for the same product would be considered discriminatory and that would be something the University would not support," she said.
Though the group is not SGA affiliated, Heimbach was able to rent University space with a 200-seat capacity and security, a total of 13 Towson University police officers.
The original cost, $3,600, was cut by more than half, to $1,600, in a collaborative decision made by TUPD and administration, Vice President of Student Affairs Deb Moriarity said.
Heimbach said he collected the funds from local community members, who he did not name, and Taylor's group.
"[The cut] was our attempt to show good faith and not block the event, and have reasonable costs associated with that," Moriarity said.
Despite the security measures, at the end of the event, five male individuals, who have not yet been identified, barged in through a door behind Taylor, screaming curses and obscenities, calling Taylor a racist.
The individuals then ran down the stairs. TUPD is currently investigating the identity of the suspects, according to Deputy Chief of Police Charles Herring.
Heimbach said he was disappointed with TUPD's response to the incident.
"You could get from the doorway to the podium far quicker than what it would take for the police officers to respond," he said. "I think that's either … incompetence or simply being in cahoots, not necessarily with individuals, but with the idea of the event being disrupted. I would never accuse anyone at the University of being complicit with criminal acts, but it seems odd that such a glaring security omission was made."
Herring said that TUPD performed several inspections of the room, Chesapeake III, prior to the event and that at 2 p.m., the door the students burst through was locked from the inside. An officer at that post also checked the door right before the event began.
A key is required to unlock the door, Herring said.
Bernard Gerst, associate vice president of the Office of Public Safety and chief of police, said that the police will review the event procedure.
"We'll reevaluate that and look to see what happened," he said. "That's what you do after every major event, you critique it. But that should not have occurred."
Administration from the Office of Student Activities, including Hall and Dirron Allen, director of student activities, moderated the crowd during Taylor's speech and Q&A period.
Taylor's main argument was that diversity is a negative aspect of the United States, and often resulted in unnecessary conflicts between races.
If given the choice, he said in his speech, an individual will always associate with someone of the same race, gender, education level and philosophies.
Several times, Allen stepped in to remind the crowd of the Time, Place and Manner policy, which states, "Speakers shall not be subject to harassment, nor shall others'    right to hear the speaker be infringed."
"I think for the most part, the students had some great conversation with our speaker," he said. "I think it gave people the opportunity to form thoughts and opinions."
Freshman Korey Johnson agreed, saying that she felt the talk fostered healthy dialogue about the controversy.
"I think it was productive for the communities that showed up," Johnson said. "It's important to understand people's points of view, even if they are bigots."
Johnson said her questions about the White Student Union were still not answered.
"We don't hear what their motives are or a mission statement," she said. "We don't know anything coming out this meeting. It could be a racist group. Not that I'm against a White Student Union, but rather the motives of the group."
Taylor said that though Towson was one of the more unwelcoming Universities he's addressed, administration handled the event well.
"The sense I got from students in the room was that they're hostile to whites having any sort of rights at all," he said. "I'm a little bit surprised to see what extent that is a double standard. It's quite astonishing to me that every other racial group has rights and can organize, but not whites. That seems like racial discrimination to me."
Morarity stressed that the University is not preventing the White Student Union from forming, but rather the group does not meet one of the requirements, a faculty adviser, to become SGA affiliated.