Nikki Giovanni connects with college crowd
3 October 2012
By Sarah Becker, Associate Arts and Life Editor and Brandi Bottalico, Associate News Editor
No Comments
Lasting for all of eternity, King Sisyphus was forced to roll a stone up a steep hill only to watch it fall every time he made it to the top.
"This is not a punishment, this is a challenge," Nikki Giovanni said of the story. "The whole point is that you accept the challenge."
Giovanni, a world-renowned poet, activist and professor spoke to a room of students and faculty members Wednesday night. Giovanni engaged the audience about current politics, race relations and hot-button topics like abortion and marriage.
"When I write, I write with her in mind," student Bilphena Yahwon said. "It was almost a conversation that she was having with us, not just a prepared speech she wrote."
An author of two dozen books, volumes of poetry, essays and children books, Giovanni has been dubbed the "princess of black poetry" by critics.  In 2006, Oprah Winfrey named her one of the 25 Living Legends and she has earned 25 honorary degrees.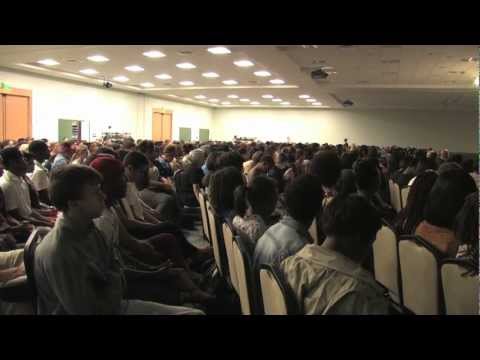 "I didn't give myself the award, I basically do as I think, I think and I say what I think," Giovanni said. "Sometimes that's rewarded and sometimes it's not."
She said she has written about topics that other people have been killed for in other countries, and is grateful for the opportunity.
And while some of her work has been banned, she said she feels appreciative that she has the opportunity to say what's on her mind.
She told the crowd she never misses writing about an experience.
"You can always get someone to fall in love with you again but you can't always get that line back," she said.
She said growing up in the 1960s with the civil rights movement inspired her and said that one of the best things to happen in this country is immigration, but that now the country is headed in the reverse direction.
"It's difficult to be a young person but what a wonderful challenge," Giovanni said. "You have to make a decision that you're going to do something with your life. I know a lot of people sometimes are feeling unhappy and a lot of people are lonely whether were young or old and 90 percent of that is they are afraid to follow their passion. I have a lot of faith in your generation. I don't mind being old at this time knowing that you guys are behind us, I don't worry about it. I know my generation worried people."
Giovanni advocated for the education and the arts and joked about how football players would benefit from taking ballet.
"The arts need to celebrate itself," she said. "Every time [the government needs] a nickel they take a crayon out of a kid's hand."
Deborah Jack, a graduate student studying biology, said she found inspiration from Giovanni. She said she had always been a fan of Langston Hughes' work and after tonight's event she is interested in reading more of Giovanni's work.
"I'm starting to fall in love with poetry again," Jack said. "I've always been into reading but I'm falling in love with black poetry again. I was really into that in high school but I got caught up in science. I'm just really excited now."
Student Government Association President Brandy Hall has been a longtime fan of Giovanni and was honored to finally meet her Delta Sigma Theta sorority sister and said that Giovanni came at a great time for Towson.
"It was absolutely amazing," she said. "Everyone knows that Towson stands for diversity and we stand for people who are going to make changes on campus."
Giovanni said she isn't worried about the current generation and wishes them as much happiness as intelligence.
"Success is knowing that you are fulfilling your dreams," Giovanni said. "You've got to find a way to define success for yourself. Take what you've learned here and go forward. Make the world a little better."