The Glass Menagerie
17 October 2012
By Megan Flannery, Arts and Life Editor
No Comments
Over the summer, Matt Jeffers found himself at a Narcotics Anonymous meeting.
The senior acting major was researching the world of his character, Tom Wingfield, who is the protagonist of the play "The Glass Menagerie."
"It's a challenge because I literally play two different Toms," Jeffers said. "I have to literally enter two different worlds, two different time periods, two different characters, two completely different mindsets in seconds."
Jeffers' character is one of four characters in Towson's contemporary adaption of the classic Tennesse Williams play, directed by Stephen Nunns, associate professor in the Department of Theater Arts.
Wingfield narrates the show during the 1950s, in which he recalls the story of what happened in St. Louis during the 1930s depression.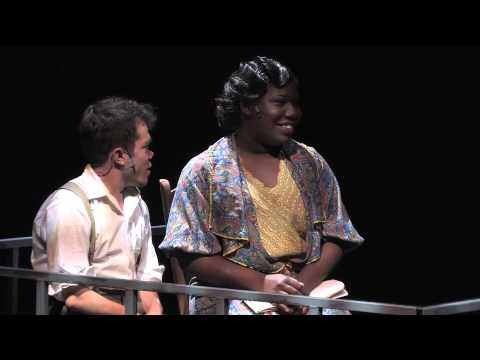 Wingfield is an aspiring poet struggling to support his mother and sister by working at a warehouse.
Because the play takes place during the Depression, similar to where the economy is today, Jeffers said, the play should be relatable the audience.
"Where we are as an economy, being a working man, knowing the value and appreciating what it means to have a dollar, family," Jeffers said. "It's a very intimate play, it's an incredibly personal play and it really plucks you into the lives of these characters."
Tom's mother, Amanda, hails from a southern upbringing and wants nothing more than to find a suitor for her shy daughter Laura.
Laura's character was based off William's sister Rose, who struggled with a mental disability and spent her life in and out of hospitals, Nunns said.
When Tom invites his coworker Jim to dinner to meet Laura, her mother Amanda is ecstatic.
Laura however is more interested in her figurines, her glass menagerie.
She tries to avoid Jim during the dinner, feigning illness, but Amanda pushes the two together. As they talk, Jim breaks through Laura's barrier, even twirling and dancing with her around stage.
Jeffers said the relationship the audience will see on-screen between the characters transcends into the relationship his cast-mates have off-stage.
"Each cast member is so great," he said. "All the scenes that I have with them, my sister, my mother, have been a tremendous experience. They're all fun."
Nunns said casting each of the four characters was easy. They had the obvious chemistry together that would be needed for such a small, intimate cast.
"It's become a tight kind of ensemble," Nunns said. "So it's been really great,"
While this is his fourth Mainstage show, Jeffers said this play has presented some of his toughest challenges in terms of character development.
He said it's important that the audience understand the transitions between Tom in the present and Tom in the past. Nunns added this has been an important learning experience for everyone involved.
"I think it's pretty obvious, though I'm not sure everybody will know exactly what we're doing. But I think in terms of an exercise, in terms of how to get your mind around [the transitions], it was a good way to do it," Nunns said. "I think people will clearly figure out there's something different going on."
Jeffers said he hopes what will attribute to the success of the play is the close relationship the cast has developed. By each developing a deep understanding of their characters, they've become a family.
"It feels like family now. It feels like a dysfunctional family," Jeffers said.
– Sarah Becker and Jonathan Munshaw contributed to this article