President Obama wins electoral vote by large margin
7 November 2012
By Jonathan Munshaw, News Editor
12 Comments
President Barack Obama was re-elected to a second term in office Tuesday night with 303 electoral votes, beating his challenger Mitt Romney who received 206 votes.
Obama, who initially was down in electoral votes after Romney won Kentucky and Indiana, relied on Western states to capture his second term in office, especially California, which gave the president 55 electoral votes.
Despite Obama's large victory in the Electoral College, Romney was neck and neck with Obama in the popular vote, tying at 49.3 percent, according to the Huffington Post.
At its tightest point, Romney was winning the popular vote by 335 votes, according to CNN.
While Romney was able to maintain a stronghold in southern states, including Texas, Oklahoma, Alabama and Georgia, Obama was able to win several key swing states, especially Ohio and Virginia, which gave the president a combined 31 electoral votes.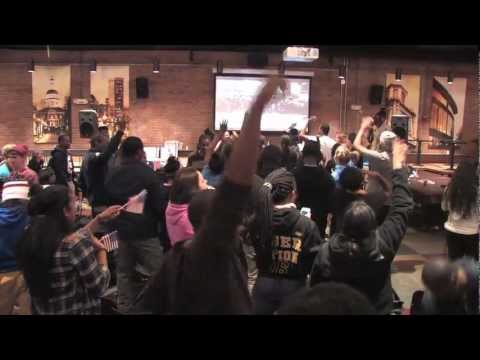 The only state currently undecided is Florida, where Obama is leading by 0.6 percent.
Senior Antwan Little, who attended the Student Government Assocation's election night party in Paws, said he was elated when he found out that Obama won re-election.
"I think our country can move forward now," Little said. "People can stop concentrating on getting the president out of office and start working with him."
Obama's recent victory was radically different than his first against Arizona Senator John McCain, in which he won in a landslide election to become the nation's first black president.
Towson College Republicans President and Towerlight contributor Rachel Eldringhoff said the Electoral College should be changed.
"Even if Romney won, I still believe the electoral system needs to be changed," she said. "At the beginning of the night I had faith that Romney and Obama would be neck and neck, but Obama won major swing states that pushed him up easily to 270. I feel that the next four years will see change but in the left direction."
Although Republicans did win some major seats in the House, Romney was unable to convince enough voters that he provided a strong alternative to Obama.
"I believe in America, I believe in the people of America," Romney said during his concession speech. "I ran for office because I am concerned about America. We have given our all to this campaign, and I so wish I had been able to fulfill your hopes, but the nation chose another leader, and Anne and I will continue to pray the president will be successful in guiding our nation."
The results showed a difference between racial lines, as Obama was able to capitalize on a diverse turnout among voters.
Only 72 percent of the electorate was white, which is the lowest percentage since 1976, according to ABC exit polls. Obama's 58 percent advantage over Romney among non-white voters allowed him to shore up his coalition of voters that included women and other ethnic groups, including Latinos, who voted for Obama 69 percent of the time, according to ABC News.
If that number stays the same, it would be a larger margin than in the 2008 election, when Obama defeated McCain 67-31 percent among Latino voters.
After Romney's concession speech, Obama took the stage in Chicago to a roar of applause to give his acceptance speech for the second time in his political career.
"America, I believe we can build on the progress we've made and continue to fight for new jobs and new opportunity and new security for the middle class," Obama said. "I believe we can keep the promise of our founders, the idea that if you're willing to work hard, it doesn't matter who you are or where you come from or what you look like or where you love. It doesn't matter whether you're black or white or Hispanic or Asian or Native American or young or old or rich or poor, able, disabled, gay or straight, you can make it here in America if you're willing to try."