To Write Love On Her Arms founder encourages honesty
18 November 2012
By Megan Flannery, Arts and Life Editor
One Comment
It first began with cuts on her legs, which then made their way across her face.
Finally they started on her arms.
Jocelyn Cook, a former Towson student, said she was a sophomore in high school when she first began cutting herself.
"I played basketball, so I would cut here and there on my legs, I would cut my face," she said. "I would just say 'I caught a fingernail in basketball,' you know? I would just try and hide it."
Cook said her depression continued for the next few years.
She was shy, and when anything went wrong, she bottled up all her feelings.
Then it all spilled out.
Cook tried to commit suicide Oct. 20. Her parents, found her and saved her just in time. The next day, she admitted herself into a hospital where she stayed for eight days.
"I wish I could say I came out a new person, but I didn't," Cook said. "It's really hard every day. I think about it every day. It's hard to get out of it every day."
Cook's story is one shared by the 20 million people in the United States who suffer from depression – and one To Write Love On Her Arms founder Jamie Tworkowski said he tries to prevent.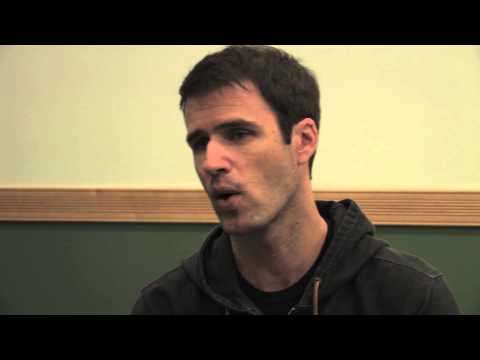 To Write Love On Her Arms, or TWLOHA, is a nonprofit organization that seeks to break social boundaries and encourage people to talk about their problems.
Cook was one of many students to attend Tworkowski's presentation on TWLOHA in the West Village Commons Thursday, Nov. 15.
"We've learned that most people who struggle with these issues: depression, addiction, self-injury, suicide—a lot of these people feel alone," Tworkowski said. "A lot of these people feel like they're not sure if they're allowed to talk about it. They're not sure what response they might be met with."
It's important to remember that you're never alone, Tworkowski said.
TWLOHA has received over 180,000 messages from people in over 100 different countries, many of whom are people facing similar problems.
TWLOHA began as a Myspace page in 2006, sharing the story of Tworkowski's friend Renee and her journey toward sobriety.
It has since garnered followers from around the globe and fostered a sense of community that Tworkowski said had been previously missing.
"I like to read people's stories," Cook said. "It's nice to know there's more people out there like you. It helps a lot."
Cook said she has recently been able to embrace her problems. She even told her friends about her cutting and they have since become her support system.
She no longer wears shirts to cover the scars on her wrists.
"I finally just came out and told everyone, 'This is me, I have problems,' and I don't really care anymore because this is myself and I don't want to hide it anymore," Cook said.
Tworkowski said it's important to remember that when someone suffers from depression, their story is unique.
"Our hope is that you don't have to do this life alone," Tworkowski said. "Your story matters. You deserve a support system and people who know you."
A support system of family and friends may be helpful to some, for others a more professional support system can be better, according to Assistant Director of Outreach and Diversity for the TU Counseling Center Sheila Graham.
Towson's Glen Esk Counseling Center offers individual, couple and group therapy sessions.
Students interested can make appointments via phone or email, Graham said.
No one should ever feel they have to bottle up their feelings.
"A lot of the pain that we feel we keep a secret, and the more powerful it becomes," Graham said.
As for Cook, she said healing will be a day-to-day process.
She has left school to focus on her well-being and said by opening up to her loved ones, she is already taking steps in the right direction.
"When I was in treatment someone said to me, 'You didn't succeed for a reason and there's a reason you're still alive,' and I would like to think that's true," Cook said.