Towson inches past Coppin State
28 November 2012
By Kyle Casey, Staff Writer
No Comments
Tigers give up 30-22 lead, still win 58-55
After suffering its first loss of the 2012-13 season Sunday, Towson responded with a 58-55 win over cross-town rival Coppin State Wednesday night.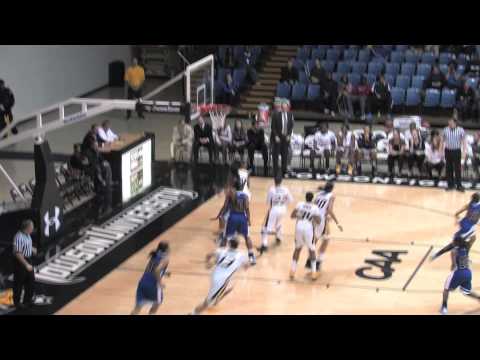 Towson (4-1) had a higher sense of energy coming off a loss and Head Coach Joe Mathews said he believed the fact that both teams are from the area added to the excitement of the game.
"I'm always happy to get a win especially against a city rival," Mathews said. "There's a little extra that goes with that. There's always a little more to it. It always comes down to who wants it more."
After taking a 30-22 lead into halftime, the Tigers began the second half with little intensity.
Coppin State (3-3) opened up the second half on a 10-0 run, using a full court press to counter Towson's up-tempo offense.
"We felt like we left a lot on the floor in the first half and that we just didn't play hard enough," Mathews said. "We built a lead because we scored well, but I told my assistant that we'd be losing before the first media timeout in the second half."
Mathews was right about the fact that Towson would be trailing after the first four minutes of the second half, however that deficit did not last long.
Powered by a career performance from senior forward Michelle Peebles, the Tigers were able to regain the lead and were able to maintain that lead throughout.
Peebles had a career-high 15 points and nine rebounds in just 27 minutes on the floor.
The senior played more than usual due to the fact that junior forward Nyree Williams sat out much of the second half due to her four personal fouls.
Peebles was not intimidated by the heightened playing time, however, noting that she was well-prepared for the moment.
"Going through my head was that I should always be ready," Peebles said. "I don't start, but since Nyree was in a little trouble, I was there to help out."
Peebles led the team in rebounds, but she wasn't the only one contributing on the boards.
The team as a whole had 47 rebounds, with 19 coming on the offensive end.
Mathews was not surprised by the impressive rebounding game for the Tigers.
"We've always prided ourselves on being a good rebounding team. Hopefully that's something we can continue with this lineup," Mathews said.
Another key performer for the Tigers was junior guard Tanisha McTiller, who went 9-12 from the free throw line.
"Free throws are always important down the stretch," McTiller said. "The ball is in my hands a lot and I know I'm going to get fouled, so free throws are important."
After experiencing some scoring struggles in the first four games of the season, sophomore guard Ciara Webb was much more efficient from the floor Wednesday night.
Webb converted on three of five field goal attempts, finishing the game with nine points.
She also added six rebounds and tied for the team high with two steals.
The Tigers return to action on Saturday as they travel to Brooklyn, N.Y. to face Long Island. Tip off is set for 2 p.m.