Ravens fan inspires team
29 January 2013
By Jeremy Bauer-Wolf, Editor-in-Chief
3 Comments
On a mid-December morning, before the sun had even risen, senior theater major Matt Jeffers sat in his Towson Place apartment typing on his laptop—just a quick letter, done on a whim, to the Baltimore Ravens.
Jeffers described in his message the invasive medical procedures he had endured all his life—numerous blood transfusions, a tracheotomy and summers in a hip spica cast, complications of his rare type of dwarfism.
What he didn't know was that the letter would eventually lead to the entire Ravens lineup, men he had admired since their 1996 arrival in Baltimore, waiting in line and shake his hand.
He wrote to the Ravens when the team's morale was low, coming off a three-game losing streak, including a 34-17 loss Denver, which was only a precursor to the unceremonious firing of offensive coordinator Cam Cameron.
The letter gave a timely push to the team.
"We live in a painful world, no doubt about it," Jeffers said in his letter. "But let me tell you this: The only disability in life is a bad attitude. A positive attitude is the most powerful combatant to life's misfortune. When you play … let it not be to win a division or to silence the critics or prove somebody wrong or end a losing skid. Let it be a dedication to that simple yet powerful notion that life can be conquered with the right outlook."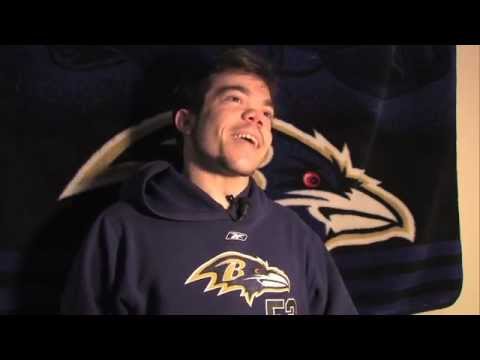 In the coming weeks, Ravens Head Coach John Harbaugh sent Jeffers an email thanking him for the letter—it had circulated among the players, and team leaders like Ray Lewis and Joe Flacco were reading Jeffers' words, Harbaugh said in a Ravens-affiliated blog.
"This one stopped me," Harbaugh said of the email. "Really, it made me pause. It came from a fan, and it got me. I immediately decided to share it with the team and emailed it to them."
Alumna Cailin Shanahan, Jeffers' girlfriend, discovered that wide receiver Torrey Smith tweeted about him Dec. 20.
"If anyone at Towson knows Matt Jeffers tell him he is the man…thanks for the email we appreciate it and him," the tweet read.
Shanahan said Jeffers was shocked, and never expected the reaction from his email, but "that's just the kind of person he is."
"He's such an inspiration. I think people are just happier when you're around him," she said. "When you look at him, he's obviously not normal, but he has such a unique perspective on life. I don't think anyone can know him without being changed."
After the new year, Smith was able to thank him in person when Jeffers traveled to the Ravens' training camp facility, dubbed "the castle" for its extravagant buildings, to spend the day with the team, an honor he said he could barely comprehend.
"I talked to John Harbaugh for like an hour—just like we were having a conversation at the grocery store. It was surreal," he said.
Jeffers detailed his mother's struggles in his letter. Since 2011 she has suffered from stage four Glioblastoma multiforme, GBM, a particularly vicious brain tumor that pierces portions of the brain—a terminal condition.
Jeffers said that for two years she has maintained a positive attitude by enjoying smaller pleasures—a trip out to lunch with a friend and her son's successes.
"You can never underestimate a person's will to survive," he said. "You can think of news like this as fuel. When your tank is nearing empty, fuel is not always found in chemotherapy or radiation. My mom has always taken much pride in my accomplishments."
Jeffers' resume is already comprehensive. He has performed multiple leads in Towson theater productions and received a nod from the Kennedy Center at their Kennedy Center American College Theater Festival this winter.
His letter, however, has catapulted Jeffers into the national spotlight. ESPN reached out to him in mid-January, asking to film a segment in which he would perform a live-action version of his letter. The piece includes interviews with Smith, Lewis and other key members of the team and will air on Super Bowl Sunday, Feb. 3, when the Ravens take on the San Francisco 49ers.
Last year's Super Bowl broke records with over 117 million viewers.
Throughout the experience, Jeffers said he is simply honored to meet the team that for years allowed he and his father to share a bond. Since Matt was 5, the Jeffers have bought season tickets.
"He's been a fan as long as I can remember," Jeffers' father, Mike, said. "I've seen him cry when things went bad and as happy as he's ever been at good games. But he keeps everything in perspective."
Jeffers, wearing his favorite black Ray Lewis jersey, will attend this year's Super Bowl in New Orleans with his father.
Jeffers said he sometimes thinks back to his decision to write the letter and is unsure of what prompted him to put his thoughts to a keyboard but that he is humbled by the attention from the team that has held a special place in his heart since he was a boy.
"We're just little Baltimore, Charm City," he said. "And the Ravens are a reflection of the fans. They're not pretty, they're not lavish … they're pretty much always written off, but they're the spirit of the city. I could not be more proud."