Tigers overthrown by Patriots 77-67
23 January 2013
By Jesse Jones, Assistant Sports Editor
No Comments
Towson unable to hold second in CAA over George Mason
Towson dropped its second consecutive conference game Wednesday night to Colonial Athletic Association-rival George Mason 77-67.
The loss marks the 20th consecutive time that the Patriots (12-7, 5-2 CAA) have beaten the Tigers (10-11, 5-3 CAA).
The Patriots have also overtaken the Tigers for sole possession of second place in the CAA and knocked the Tigers into a tie for third with Georgia State, who own a tiebreaker after defeating Towson Monday.
"Credit to Mason, they're obviously really good," Head Coach Pat Skerry said. "We didn't play very intelligently on the defensive end of the floor and we took way too many threes. We're not offensive juggernauts. We have to be great defensively."
Junior guard Sherrod Wright led George Mason with 24 points on 5-12 shooting from the field and went 14-17 from the free throw line. Wright also added eight rebounds and four assists.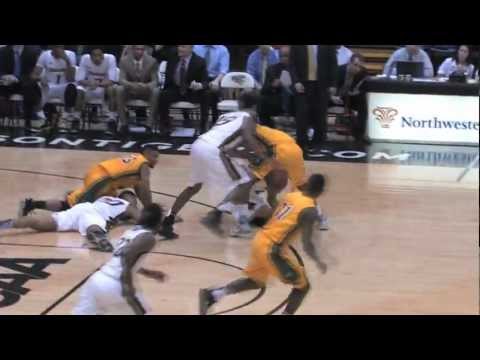 "Sherrod Wright's the most gifted offensive guy in the league," Skerry said. "He made us pay."
Coming into Wedneday night's game, Towson was ranked second in the CAA in defense. However, the Tigers allowed the Patriots to shoot a staggering 49.1 percent from the field, about 11 percent higher than their season average coming into the game.
Skerry recognized that giving up such a high percentage from the field to the opposition resulted in the loss.
"If that happens we'll lose," Skerry said. "For whatever reason, we got away from what we do defensively. We can't win shootouts, it's not going to happen."
Junior guard Rafriel Guthrie led the Tigers with a career-high 18 points on 8-15 shooting from the field.
Toward the end of the game Guthrie continuously hit multiple shots to keep the Tigers within single digits.
When asked about his performance, Guthrie acknowledged his teammates and coaches.
"My teammates get me in position to score the ball and my coaches run plays [for me]," Guthrie said. "Nothing really changed, shots were just falling today."
For the first time in six games, junior forward Jerrelle Benimon did not record a "double-double." Benimon finished the game with 16 points on 5-15 shooting from the field and eight rebounds. Benimon also committed a team-high four turnovers.
"I think for the first time in a while [Benimon] let his frustration get to him," Skerry said. "He hurt us on both ends of the floor. If you want to be a primetime guy, you've got to play every night. He's got to play better."
But the offensive struggles went far beyond Benimon.
The Tigers turned the ball over 16 times compared to only eight by the Patriots.
Towson also made only four three pointers out of 21 attempts (19 percent) in the game.
"I think we settled [with shots] a little bit too much," Skerry said. "It's not who we are. [George Mason] went to some zone [defense], and it's clear we've struggled with zone for a multitude of reasons. Our feel offensively for a lot of guys was really bad."
Towson will look to rebound from its current two-game losing streak Saturday, Jan. 26 at William & Mary.
The Tigers beat the Tribe in a double-overtime thriller Jan. 9 at the Towson Center.
Saturday's game is slated for a 7 p.m tip off.