Emotional Tigers slay Dragons
24 February 2013
By Jesse Jones, Associate Sports Editor
No Comments
Towson clinches first winning season since 1995-96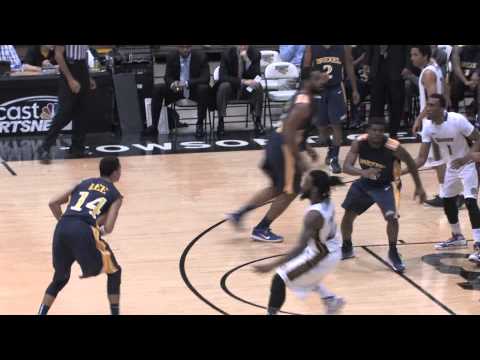 Up 71-70 with 11 seconds remaining against Drexel, Towson freshman point guard Jerome Hairston stole a pass from Damion Lee and sprinted down court when Derrick Thomas fouled him.
Hairston made one of two free throws, propelling the Tigers to a 72-71 win.
On the Dragons' (11-17, 7-9 Colonial Athletic Association) last possession, Kazembe Abif was fouled with two seconds remaining, but failed to hit the first free throw.
In an attempt to miss the second free throw, Abif made it, and on the ensuing inbounds play, the Tigers (16-13, 11-5 CAA) were able to run the rest of the clock out in Saturday's game.
The win marks the first time in 17 seasons that Towson will finish the regular season with a winning record.
"[Lee] was stumbling around and I just saw it in his eyes that he wanted to get rid of the ball," Hairston said of his late-game steal. "Sometimes when you don't want to make the mistake the most, you make the mistake. I just played the pass like I've been taught all my life and it just happened."
Hairston, whose high school teammate Josh Level died earlier in the week, finished the game with a career-high 20 points, and said he played the game in honor of his lost friend.
Level was only 17-years-old and was a top prospect in North Carolina.
He collapsed on the court during a game.
"He actually used to say stuff like, 'It's a privilege to play this game,'" Hairston said. "He was the most appreciative person. From here on out, I'm trying to make it my prerogative to play for him and appreciate every minute I do get on that court."
Head Coach Pat Skerry said he was pleased with Hairston's performance.
"Jerome was tremendous," he said. "He had a lot of emotions today and played great."
Although the Tigers are second in the CAA, they will not be allowed to play postseason because of NCAA violations from the 2010 season.
Though they are barred from March Madness, the Tigers have not stopped playing their hardest.
"I was a little bit emotional before the game," Skerry said. "I told our kids that we only have a week left. The CAA and the NCAA can take away our postseason but nobody can take away the next 40 minutes. I've got tremendous respect and appreciation for these kids. They've done a great job all year."
If the Tigers win their final two games of the season, they will have the largest season turnaround in NCAA Division I history.
Junior forward Jerrelle Benimon and Hairston both said after the game that the team is aware of its accomplishments, though Skerry tries to avoid bragging about his players.
"We're obviously having a great season," Benimon said. "We could've done better. We lost some games that we shouldn't have lost.  We're in second [in the CAA] right now. You couldn't ask for much more."
The win also marks the third sweep of a conference opponent this season.
Towson previously beat Drexel on the road Jan. 5 69-66.
Towson has also swept UNC-Wilmington and Delaware.
"It means we have good players and we've had some good breaks," Skerry said. "In close games, you hope you can come out on top. Conference games can go either way and we were fortunate enough to make more winning plays."
The Tigers held a substantial lead throughout the game, but the Dragons made a late surge and took their first lead since the 12:38 mark of the first half with 3:56 remaining in the game. Both teams would trade leads for the remainder of the game until Hairston's steal sealed the win.
Benimon finished Saturday's game with his nation-leading 19th "double-double" of the season. He had 19 points and grabbed 10 rebounds, and now holds Towson's Division I single-season rebounding record with 326 boards on the season.
Junior guard Mike Burwell scored 10 points for Towson, and graduate center Bilal Dixon scored seven and recorded 11 rebounds.
Junior guard/forward Marcus Damas added six points, four rebounds and three blocks.
"I thought Jerrelle was terrific," Skerry said. "I thought Burwell's defense on Lee was a little bit underrated today and I couldn't be happier for Bilal. [He's] playing really well for us right now. He took a leap of faith by coming here and we have great respect for him too, helping us get this thing going."
Towson will continue its quest to make history when it takes the court Tuesday night in Fairfax, Va. against George Mason. The game, which will be broadcast on Comcast SportsNet, is scheduled to tip off at 7 p.m.