Student Spotlight: Mark Burchick
27 February 2013
By Carley Milligan, Assistant Arts and Life Editor
No Comments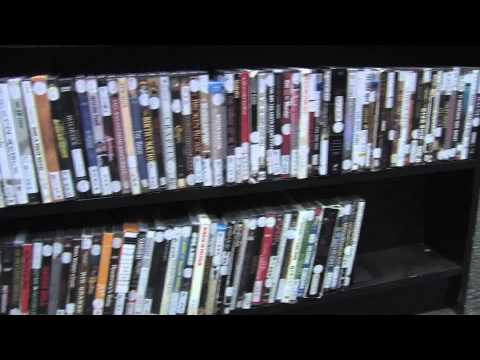 Almost 18,000 undergraduate students are enrolled at Towson University, and during a busy semester one can certainly feel lost among the crowd every now and again. Once a week, The Towerlight will be searching the campus for an average student, but one worthy of special attention for their work, home, personal or academic life. If you or a friend are interested in being featured, please contact The Towerlight at arts@thetowerlight.com and submit your name and two to three sentences about yourself.
This week's spotlight begins at Tiger Reels, the on-campus movie rental store on the first floor of the University Union, which gives students, faculty and staff a place to rent DVDs for one day. However, it also houses work opportunities, and for junior electronic media and film major, Mark Burchick, it's the prime workplace for someone whose interests are largely film related.
As an employee at Tiger Reels, he not only can complete his homework while at work, but he also gets to do something he loves: watch movies. Not just the movies that have come out in theaters recently, but all types of genres and older movies that Burchick said he never would have learned about if he was not employed at Tiger Reels.
"My friend who works at the University Store got me the job, it's a really hard job to get on campus, [but] it's one of the nicest jobs on campus because you get to watch movies most of the day and interact with customers, talk about movies," he said.
After asking his boss for permission to build a film history section in the store, Tiger Reels now carries a wide range of classics including "Casablanca" and even works from the silent films era like "The Phantom Carriage."
"No one may ever watch them but, as an EMF student, I feel like it should be my responsibility to help provide these older movies to the campus so that some people will maybe be interested in seeing them," Burchick said.
He said that his fellow employees have exposed him to musicals, something he would never have discovered he had an appreciation for. Customers have also told him about all sorts of interesting and unknown films such as "REPO! The Genetic Opera," a little-known cult musical.
"Occasionally I will have interactions with customers who will come in and recommend something to me that I have never heard of or I will recommend something to them," Burchick said. "Then a few days later when they come back in to return it they may say, 'Hey, this movie was so great thank you for telling me about that' or they may come back in and I will say, 'Hey, I loved that movie' if I had a chance to watch it."
Another aspect about his job that Burchick said he enjoys is the opportunity to read through interviews with well-known filmmakers. He has learned that many of them got their start in film from working at a movie stores like Blockbuster. After learning this fact, Burchick said he is more inspired to make movies, especially because he too gets to spend his days watching films.
Burchick said his interest in films first began when his close childhood friend created films with an old VHS-compatible camera. They spent their childhood playing in the backyard and filming just about everything with their camera. At the time, Burchick had no idea that filmmaking could potentially become his passion and possibly his career in the future.
Burchick said he hopes to one day look further into his interest in documentaries, the primary reason why he decided to double major in journalism in the mass communication department.
"I feel like its a good opportunity to learn ethics and how to interview people and be able to get into peoples mindsets and allow them to open up and kind of get the stuff that you would want for a great documentary," Burchick said.
He has already received his first documentary experience in his EMF 461 Documentary Film & Video class. Burchick chose to focus the film on his brother, a firefighter who is about to have his first child with his wife.
"I am covering what it is like to have a family life at home and then worry about your safety at your job and the tension between that relationship and what it's like for him," Burchick said.
Spotlight Superlative: Film Connoisseur