Towson announces 23 recruits on Signing Day
6 February 2013
By Jonathan Munshaw, News Editor
One Comment
Towson strengthened its Co-Colonial Athletic Association Champion football team Wednesday with the addition of a 23-man recruiting class.
This year's class consisted of four offensive lineman, five defensive lineman, two defensive backs, a quarterback, five wide receivers, three linebackers, two running backs and one place kicker/punter.
Of the 23 players, 11 of them had received offers from other division 1-A schools in but chose to attend Towson, Footbal Head Coach Rob Ambrose said.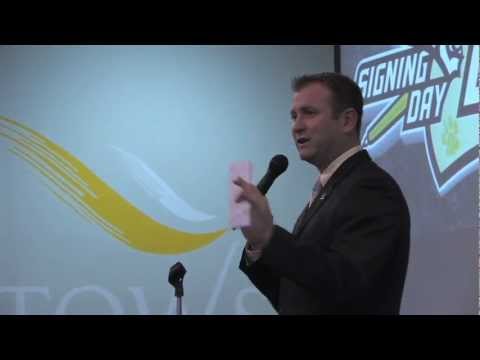 "We won today," Ambrose said. "If this is a football game, then it was a blowout."
Highlighting the class is running back Darius Victor from Northwestern High School.
Victor was the leading rusher in the state of Maryland in 2012, running for 2,017 yards and 31 touchdowns.
The Hyattsville, Md. native took part in the Crab Bowl and the Chesapeake Bowl, as well as the Prince George's county vs. Southern Maryland Athletic Conference All-Star game.
The Tigers also brought in Heath Dahlgren from Governor Thomas Johnson High School to compete at quarterback during the spring.
Dahlgren graduated a semester early from high school to enroll in Towson for the spring 2013 semester.
"He's special on a lot of levels," Quarterbacks Coach Jared Ambrose said of Dahlgren. "He's a great athlete, and is a two-dimensional player like Grant [Enders]."
Rob Ambrose said Dahlgren, along with the other quarterbacks currently on Towson's roster, will compete for the starting job, and said he hopes to name a starter by the end of the semester.
Staying on the offensive side of the ball, the Tigers brought in several wide receivers to strengthen a receiving core that lost Tom Ryan to graduation.
Andre Dessenberg from Ocean Lakes High School in Virginia heads the receiving class.
Dessenberg broke the records of Vikings wide receiver Percy Harvin and former New York Giants and Pittsburgh Steelers wide receiver Plaxico Burress for receiving yards in the Virginia Beach, Va. area.
"I think he's the love of my life," Wide Receivers Coach Dassin Blackwell said.
Possibly the most promising defensive player is defensive end D'Sean Cummings.
Cummings, from Frederick Douglass High School, led his team to the Maryland State Championship game and a 12-2 record.
In his senior year, Cummings made 105 tackles and eight sacks, in addition to 109 tackles and 10 sacks in his junior year.
The average grade point average for the recruiting class was 3.005, and only one recruit was not a multi-sport athlete, according to Rob Ambrose.
"We got guys that are better than what we have in the locker room right now," he said. "There are kids who desperately want a degree, and they see what their future has in store for them. We also have kids who want to be here more than anywhere in the world."