Wise words
27 February 2013
By Daryllee Hale, Associate Arts and Life Editor
No Comments
Common, author, actor, public speaker and lyricist visits campus
When Lonnie Rashid Lynn Jr. was young, he said his mother always told him to use his common sense.
It is that idea that he used to develop his stage name, "Common," and his identity as a lyricist, author, actor and public speaker.
"My mother used to always say, 'Better use your common sense, boy'… that was always being stressed to me, so I thought that name would be fitting for me," Common said.
But his name is not the only idea Common got from his mother. He also found the drive to help others, a factor that inspired him to start the Common Ground Foundation, an organization dedicated to empowering youth to chase their dreams through the use of the creative arts.
This quest to inspire others is what brought Common to Towson Wednesday, Feb. 27. In an event sponsored by the Center for Student Diversity and the Campus Activity Board, he spoke to a sold out crowd in the West Village Commons ballrooms.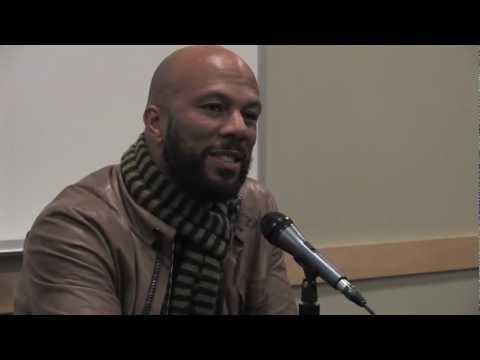 "I got the inspiration for the Common Ground Foundation because growing up, I was blessed to have a great mother who was a teacher…and I saw her do [a lot] for other people and I also saw that some of my friends didn't have the parents and the support that I had as a kid," Common said. "Then once I was afforded the chance and the blessing to pursue my dream, I realized I could help out even more people with this platform and I decided to do something for young people."
Common began his time speaking at Towson with a rap that allowed him to relate to the Towson community, including phrases like, "I came to Towson to rock it for the Tigers."
But after he showed his ability as a lyricist, he immediately switched to his role as a public speaker, leading with one word: greatness.
Common conveyed that the idea of greatness that should speak to the hearts of Towson students.
"I came to Towson to talk about greatness," he said. "When I recognized that I was coming to Towson … I knew that I was coming to talk to the future."
He begged the question, "Where does greatness fit in our lives?" and inspired students to find an outlet to pursue with passion.
"Find your path, believe in your path and live it," he said.
Sophomore nursing major Briana Taylor said she was influenced greatly by Common's speech and intended to make a change in her life.
"The times when I'm down, and thinking about trying to get ahead, I'm definitely going to just push myself and just continue to encourage myself," Taylor said.
She said she thought Common's speech should inspire Towson students to chase their goals.
"I think everyone should walk away inspired and feel like, 'Hey, we can follow our dreams, too,' like what Common did," she said.
Common said that even now, he still thinks about the work his mother did to give him a life of love and the ability to dream. He said she lived to get a job and support her family, rather than chase a dream.
"It hurt me that my mother never really dreamed about doing something," he said.
Now Common uses the sense of passion that his mother instilled in him as a reason to inspire youth to never give up on their dreams.
'The message that I convey most is to think of love and that means keep pursuing your career whether it be as a student, whether it be as an athlete, whether it be as an artist, musician, actor, painter, whatever it may be if you do it with love, you are bound to be doing it with success," he said.