Tigers make NCAA history in final game
2 March 2013
By Jesse Jones, Associate Sports Editor
3 Comments
Just one season removed from setting the NCAA record for consecutive losses, Towson made NCAA history, setting the record for the largest season-turnaround in the team's final game in the Towson Center Saturday.
With the 67-64 win over the Hofstra Pride (7-24, 4-14 Colonial Athletic Association), the Tigers (18-13, 13-5 CAA) earned their 18th victory of the season, marking a 17.5 game improvement from last year's one-win team. The previous record for a season-turnaround was 17 games, held by Mercer and UTEP.
The record comes despite the team's ban from postseason play because of low test scores from the 2010 season.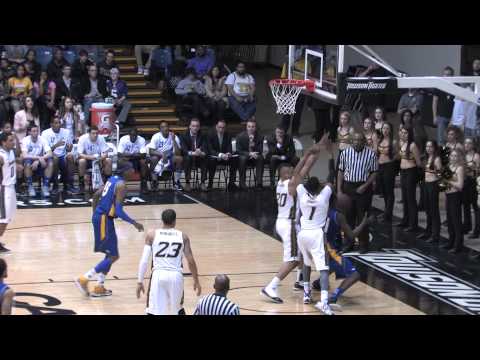 "It's really an amazing accomplishment," Head Coach Pat Skerry said. "I, as a young coach, have certainly learned what pride means and these guys have it. To know you can't go to the postseason and every day work that hard and play that hard, it's taught me a lot. My respect level and [appreciation] for these guys will last forever."
Skerry said one of the key players in Towson's record turnaround was graduate center Bilal Dixon.
Dixon, who played at Providence last year, was not brought back and decided to join Towson and Skerry, who was his former coach at Providence.
Saturday was the final collegiate game of his career.
"I came here and I made family," Dixon said. "These weren't just my teammates, these were my brothers. We won and that's all you could ask for, senior night or not. We knew that we couldn't go to the postseason but we knew they can't stop us from winning in the regular season and we went out there and played hard. [The voters] picked us last, and we showed them that we have a good team."
Junior guard/forward Marcus Damas, who was the leading scorer on last season's team, acknowledged a culture change as a reason for the team's success this season.
"It's just a whole bunch of guys that want it," he said. "We're a family just like Bilal said, and Bilal's a perfect example. He came here knowing that we couldn't go to the tournament and gave us everything he had."
Aside from his team's turnaround, Skerry also acknowledged the turnaround with Towson Athletics as a whole.
"We have an unbelievable university here that's going to continue to grow," he said. "Football had a great start, we're having a good start and there are other things with other sports. We've got this thing that's about to explode and I think everybody has taken off the brown paper bags. Now they're saying, 'Hey, we're Towson. We're proud to be Towson Tigers.'"
The Tigers held a seven-point advantage with 1:08 remaining in the game, but the Pride fought back and had a chance to send the game into overtime with a three-pointer with 0.7 seconds remaining.
Guard Stevie Mejia, who finished the game with a game-high 22 points, missed the final shot of the game for Hofstra, sealing Towson's victory.
"When the crowd started standing up, that's when I can say that it really hit us that this is our last game in the Towson Center and we are 1:50 from making history," Dixon said. "When the crowd rushed the court, that's the greatest feeling in the world."
The win marked the fourth season-sweep of a conference opponent this season.
Freshman point guard Jerome Hairston tied Damas for a team-high in points with 17, while junior forward Jerrelle Benimon recorded his nation-leading 20th "double-double" of the season with 14 points and 13 rebounds, all while battling a staff infection.
"It was a good, hard-fought win," Skerry said. "It wasn't the best we've played. It certainly wasn't the best I've coached. I think I had our guys tight early, but we found a way to win. It was a great atmosphere. [Hofstra] played really well. They made shots in a tough environment. It's a great day. We're happy we got that 18th 'W'."
Towson will now turn its attention toward the offseason, where it can possibly win multiple awards. Skerry is in the running for CAA Coach of the Year, Hairston is up for CAA Rookie of the Year and Benimon for the CAA Player of the Year, along with the Lou Henson Mid-Major Player of the Year.
When Skerry was asked if Benimon was the player of the year, he implied it was a no-brainer.
"I said this at Mason, 'If he's not unanimous, that person should lose their voting privileges,'" Skerry said.
Because of its academic ineligibility to compete in the CAA and NCAA tournaments, Towson will have the offseason before opening at Tiger Arena against Navy in November.