Towson unable to handle 'Cuse
10 March 2013
By Tyler Beard, Staff Writer
No Comments
In a dominating second half performance, No. 5 Syracuse beat No. 16 Towson 10-3 Saturday afternoon at Johnny Unitas Stadium.
At the end of the first half, Towson (1-4) only trailed Syracuse (3-2) 4-3. The Orange controlled the half, but the Tigers were able to hang on with goals by junior midfielders Rhiannon Coogle and senior Laura Zinkand to make it a one-goal game at halftime.
The second half was different. The Orange were able to break the game open completely by putting up six unanswered goals and keeping the Tigers completely shut out on offense.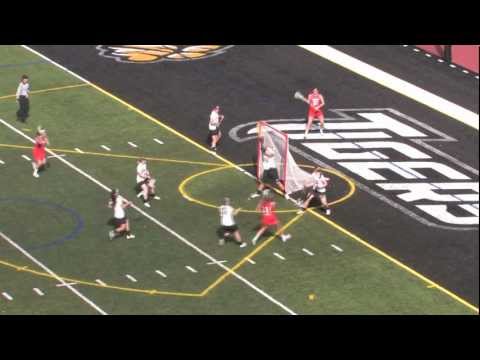 The biggest struggle for the Tigers was getting past Syracuse's press defense. The Orange were able to get the Tigers to commit 25 turnovers, 12 of them coming in the second half, hindering Towson's chances to score the rest of the game.
Syracuse was able to possess the ball longer than Towson and also capitalized on its offensive opportunities.
Head Coach Sonia LaMonica recognized the Tigers' offensive struggles.
"We just made some mental mistakes out there that were frustrating to see," she said. "We need to continue to put people in places that they feel confident in and we just had trouble capitalizing on our opportunities, but we're going to continue working and make those opportunities cash in in the future."
LaMonica also said the team didn't hold up against Syracuse's pressure.
"We fell back on not having good decision making and we didn't find the easy passes up the field," she said. "We just didn't find the right plays to make."
A strong point for Towson was sophomore goalie Kelsea Donnelly, who once again proved to be one of the better goalies in the league. Donnelly was able to make 11 saves in the game and was a key reason the Tigers were only down by one goal at half.
"Kelsea had a phenomenal game. She kept us in the game for a huge portion on it," LaMonica said. "Our defense did a great job at keeping up with their matchups. But after a while, you can only hold on for so long against such a great team when we just couldn't get the offense going. Kelsea can only do so much, but she's definitely been rock solid for us."
Towson is on a two-game losing streak, but LaMonica said she is proud of the team's development so far this season and that it will get better as the season progresses.
"I'm seeing the positives from our girls. We've played a really tough schedule, so I think this is part of the growing pains for us," she said. "It's easy to get caught up in seeing the wins and losses from a certain perspective, but I'm still very confident in our team and I can see our progress."
The Tigers' next game is on the road against Richmond (2-5) Saturday, March 16 at 1 p.m.