Dragon Slayers
29 September 2013
By Nicole Gould, Staff Writer
No Comments
Towson (6-5-1, 1-1 Colonial Athletic Association) won its first CAA game with a 3-0 shutout against the Drexel Dragons (4-6-1, 0-1 CAA) Sunday afternoon after falling short to the Delaware
Blue Hens (6-4, 1-0 CAA) 1-0 Thursday at the Tiger Soccer Complex.
Thirty seconds after the starting whistle in Sundays game, senior forward Emily Banes crossed the ball from the far left, where junior midfielder Katlyn Axenfeld powered a shot from the top of the 18-yard box right under the goalpost.
About two and half minutes later, Banes sent another cross from the far left to junior midfielder Katie Ponce. Ponce volleyed the ball from six yards out past Dragons goalkeeper Eve Badana, giving the Tigers a 2-0 advantage.
"Emily Banes has been the focal point of our offense all season," Head Coach Greg Paynter said.
The Dragons threatened the Tigers in the 20th minute after a player got a touch off the ball from a corner. Tiger junior goalkeeper Erin Quinn had a diving save, ensuring the Tigers held onto their lead.
"We couldn't have asked for a better start in the first four minutes of the game," Paynter said.
Both teams continued to battle into halftime, but the Tigers led 2-0.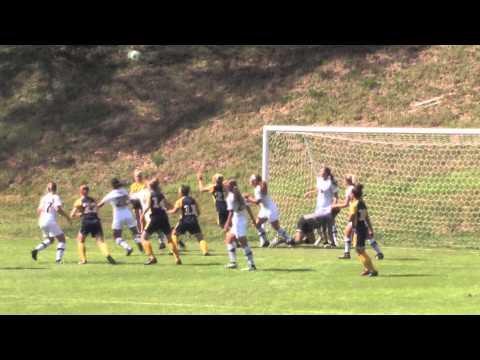 In the 54th minute, junior forward Sofia Read created a give-and-go with Ponce, who took a quick shot from 18 yards out, putting the Tigers up 3-0.
The Dragons outshot the Tigers 7-2 in the second half, but were unable to score a goal.
"I don't care who it is, conference wins are great to get and hard to come by," Paynter said. "I'll take them whether they're home or away, a shutout or 3-0, I don't care."
In Thursday's game, the Tigers struggled to score against the Blue Hens in their CAA season opener.
The Blue Hens took advantage of the Tigers in the ninth minute after Andrea Arnold took a shot on Quinn, who was unable to slap the ball far enough behind her, allowing the ball into the goal.
The Tigers were unable to connect throughout the half, giving the Blue Hens possession of the game. They were relentless and continued to pressure the Tigers defense.
In the 31st minute, a Blue Hen took a shot on Quinn, who made a diving save, which was later called offside.
In the second half of the game, the Blue Hens continued their offensive drive against the Tigers.
"She [Quinn] was fantastic in the back and made some unbelievable saves in there and kept us in the game," Paynter said. "We weren't able to take advantage of it by putting the ball in the back of the net the other way."
The Blue Hens outshot the Tigers 22-10.
"This is what conference [play] is like," Paynter said. "It's going to be really competitive."
The Tigers return on the road to face UNC Wilmington Friday, Oct. 4 at 7 p.m. and the College of Charleston Sunday, Oct. 6 at 1 p.m.