Identity through art
15 September 2013
By Eva Niessner, Staff Writer
No Comments
While the usual attendees of the Art Filipino exhibit included the standard faculty, staff and students, the Ambassador of the Philippines made a special appearance on Saturday, Sept. 14.
Philippine Ambassador to the U.S. Jose Cuisia participated in the ribbon-cutting ceremony, marking the opening of the Asian Art Gallery's first all-Filipino exhibit.
"I hope that people will see that when you look at Filipino art, there is a blending of Asian and Western heritage," Cuisia said. "Many of these artist studied in the United States and were exposed to western art. Unlike other Asian countries, where the art is very clearly Asian, there is blending in Filipino art."
The blending was a reoccurring theme in the variety of art featured in the gallery, all of which are meant to represent the creativity and identity in the art of the Philippines.
From the art of the early 1950s to contemporary pieces, the Art Filipino exhibit contains portraits, metalwork, colorful paintings of birds and sea creatures and even art that can be touched and manipulated.
Julian Oteyza, who created paintings that are meant to be spun and pushed into new positions, was also present for the gallery opening.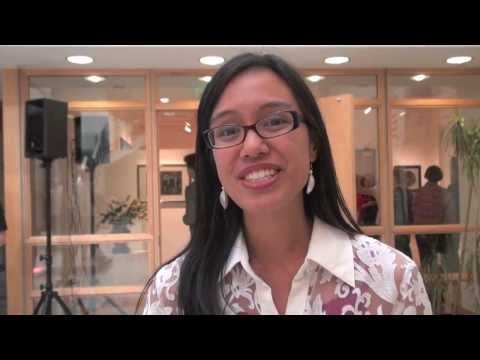 "My works are inspired by my dyslexia," he said. "But I've seen it as a gift, as a new perspective for art. I encourage touching them, which isn't what you usually hear at an art gallery."
Other pieces came from private collections. Attendee Domingo Ordoveza contributed a number of paintings from his own collection. He said that Towson was a good venue to share Filipino art with the community.
"Towson is a prestigious university," he said. "I had no qualms about it, and I hope whoever views them will enjoy them."
The artwork in the gallery, while not as well known in the United States as it is in the Philippines, is prestigious as well.
Fernando Amorsolo, one of the gallery's featured artists, has sold at auction for $440,000.
After the ribbon-cutting, guests were invited to listen to talks by participating artists, and enjoy Filipino food.
"Art Filipino: Works by Master Artists" is open until Oct. 26.
There will also be a Filipino paper lantern-making event on Saturday, Oct. 19 in the Center for the Arts Atrium. This eventcelebrates the Filipino tradition of creating parol lanterns in the Christmas season.