Longest-serving senator in Md. visits campus
29 September 2013
By Brandon Wharton, Contributing Writer
No Comments
Paul Sarbanes, the longest-serving U.S. Senator in Maryland history, spoke to students and faculty on Thursday, Sept. 26 about his signature piece of legislation, the Sarbanes-Oxley Act.
"Just to have Senator Paul Sarbanes in this room is an honor," Towson University President Maravene Loeschke said as she introduced the former senator.
Sarbanes addressed a large crowd of mostly business and accounting students on how his legislation placed more accountability on corporations and allowed for more transparency to investors.
"We set standards for corporate responsibility," he said.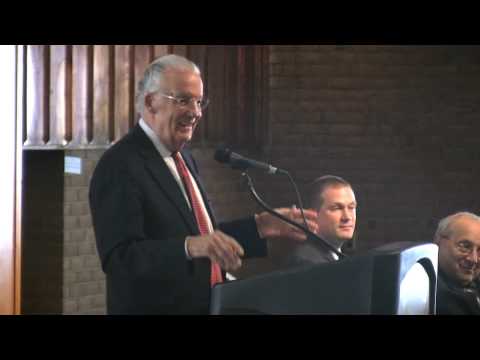 The Sarbanes-Oxley Act, also known as SOX, was designed to prevent accounting fraud and to set new standards for financial disclosures from corporations to investors.
Jeremy Caroglanian, a senior accounting major said it was "great learning the history of Sarbanes-Oxley from the senator himself."
Caroglanian, like many of the students in attendance, found out about "An Afternoon with Senator Paul Sarbanes" from his professors.
The event was also a great way to increase awareness of the accounting profession, he said.
A major focus of SOX was to provide protection to auditors, who are responsible for making sure corporations are not dishonest about their quarterly and annual earnings.
Prior to SOX being enacted, the very people who wanted to intentionally lie to the public could have had the power to fire auditors whom they took issue with.
In essence, an auditor's job could have been at stake if they reported the truth about their company falsifying financial records.
It is now required that auditors of publicly traded companies be hired, fired and compensated by an audit committee of the company's Board of Directors, rather than management itself.
Notably, SOX passed with 99 votes in favor in the Senate, and 423 votes in favor in the House of Representatives.
"We were able to work together," Sarbanes said. He added that the revelation of WorldCom's consistent overstated earnings added additional momentum and support to his legislation.
Despite SOX's almost unanimous support in 2002, there have been criticisms that the legislation forced companies to spend significantly more money to be in compliance with the law.
Sarbanes said he is skeptical of such criticisms and pointed to numerous studies and reports that have said SOX was a worthwhile endeavor and has lead to a more positive business climate.
The event also featured a panel of accounting and business leaders who spoke to students about what they need to know as they prepare for their careers.
"Strong analytical skills are important," Bill Dockman, vice president of finance at W.R. Grace & Co., said. "You've really got to understand the business," he added.
Kenneth Denski, a senior manager at SC&H Group, advised students to make sure they have "real-life experience" before entering the job market.
These experiences are what make job candidates stand out, he said. The advice that was shared throughout the event made an impact on accounting major Manuel Lopez.
Lopez said that the insight from Sarbanes and the panel was especially important to him as a senior who will soon be entering the workforce.
"It was a lot of knowledge packed into a short amount of time," he said. "It was definitely helpful."