Musicians come to Towson to heal hearts
22 September 2013
By Daryllee Hale, Arts and Life Editor
No Comments
Sophomore Amanda Diaz loves her favorite band Honor Society. And, as a part of Love is Louder, she also loves to make a difference. On Saturday, Sept. 21, Diaz got the chance to see both, when Honor Society came to Towson to perform in the Harmonies for the Heart acoustic benefit concert for the American Heart Association. The Campus Activities Board, Alpha Phi and Love is Louder sponsored the concert, a free event in Paws.
"We're selling T-shirts, Alpha Phi is selling t-shirts and donating it to American Heart Association. We have a banner that we're going to present to them and everything," Diaz, the secretary of love is louder said.
Opening for Honor Society was Griffen Alexander, a solo artist who described his sound as "indie rock without the snobbery and pop rock without the 'OMG.'"
Next up was Honor Society, a three-member pop rock band from New York. The group is made up Alexander Noyes on drums, Michael Bruno on vocals and Andrew Lee Schmidt on bass. Leah Strauss, an education major, said that she attended the concert for Honor Society.
"I saw them four years ago in concert," Strauss said, and is excited to see them again.
For the band, Harmonies for the Heart marked their fourth-to-last performance, as the band will be breaking up after what it described as their "grand finale" shows.
"The people that brought us to play have been fans of the group for a long time so it's been really cool to kind of make that connection," Bruno said.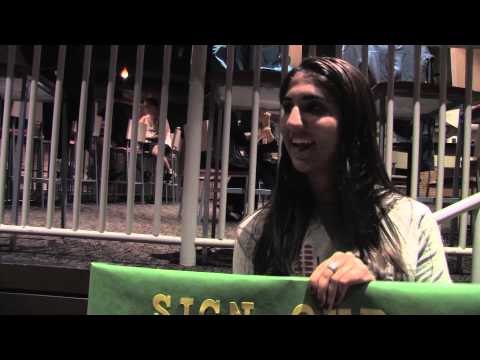 Honor Society said that it was glad to be performing for a good cause.
"It's Harmonies for the Heart, we even got the T-shirts," Schmidt said.
After Honor Society breaks up, the members of the band said that they plan to stay in the music industry.
"I think we'll all still do music in some capacity. For me, personally, I'm not going to go start another band tomorrow, but… I'll still do music on the side," Schmidt said. "Who knows, maybe I'll do music full time again someday."
Schmidt said that a future without Honor Society is scary, but also exciting.
"There's a lot of unknowns…we've been doing this for eleven years, it's our identity. And so it's time for all of us to forge a new path, and kind of rediscover who we are, the things that we like to do outside of Honor Society," Schmidt said.
Though the band will not be returning to its second home on the stage after next month, it said on stage that its show at Towson was special, and one to be remembered. Harmonies for the Heart drew out not only fans of the performers, but also Towson students like Janelle Hartman.
"It was a free concert, I just wanted to hang out with people," Hartman, a molecular biology, biochemistry and bioinformatics (MB3)  major said.
But, in the end, it was about supporting a good cause.
"We bought our t-shirts and everything," Hartman said.
Towson students and the musical artists alike were able to have fun while doing just that.
"Thank you for coming on the ride with us. It's been a great 10, 11 years," Schmidt said.