TU wins first event in SECU
4 September 2013
By Tyler Beard, Staff Writer
No Comments
Towson beat Coppin State in four sets (3-1), winning the first athletic event in the new SECU Arena.
The Tigers (2-3) were able to control the game early, winning the first set 25-23.
Coppin State (1-3) was able to take the second set, but not after a battle from the Tigers. The Eagles were up 24-21, looking to gain the set point, but the Tigers were able to battle back and tie it at 24-24.
Towson would go on to lose that second set 30-28, but the comeback enabled them to completely take over the game. The Tigers would go on to dominate the third set 25-15 and then sealed the game with a 25-20 win in the fourth set.
"We all practice that composure part of the game; even the coaching staff does," Metil said of his team after the game. "We just practice these situations on where there might be times where we're behind. Even though we lost that second set, we talked about playing cleaner ball in the 10-minute promo. Even though this team is young, they're pretty well off and if can play clean ball, we might shock some people in the [Colonial Athletic Association]."
Towson's only struggle in the game was having 16 serving errors, something that Metil said the teams needed to improve on after the second set.
Junior Saitaua Iosia, who had 18 kills, led the Tigers offensively. Sophomore Haley Pa'akaula, added 12 kills in the match. Both girls were able to dominate the Eagles and combined for 30 of Towson's 59 kills in the game.
"It feels great, especially being the first event in this arena," Iosia said of the win. "We were able to keep calm out there and execute our plays."
The match featured 37 ties and 16 lead changes.
The Tigers had the advantage over the Eagles in total team blocks 12-8 and had a higher attack percentage (.240-.183).
Metil spoke after the match about what the win meant for team as well as himself.
"It's a great win. We wanted to respond well at home and wanted to perform well in front of a lot of new students who came out to the game," he said. "A lot of people might not know that when I got first start in Division-I coaching, Coppin State was my first job. So getting my first home win at Towson against my old school is kind of bittersweet."
Metil, who is in his first year as the head coach at Towson, coached Coppin State from 2005-06.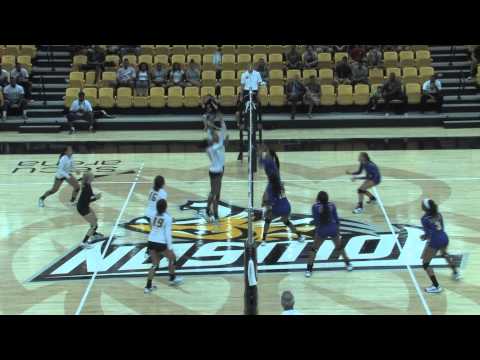 Towson now travels to Raleigh, N.C. for the N.C. State Tournament.
The Tigers will play the Binghamton Bearcats on Friday at 4 p.m. before taking on the Appalachian State Mountaineers Saturday morning at 10:30 a.m. and the N.C. State Wolfpack later that evening at 7 p.m.