Positive planning
2 October 2013
By Thomas Martinson, Staff Writer
One Comment
When many students think of Homecoming, they may think of wild parties, but the Office of Student Activities, the Division of Student Affairs and Off Campus Student Services are seeking to change that notion.
On Oct. 2, students gathered outside the CLA Tiger statue to pledge their promise of responsibility during the Positive Homecoming Awareness Rally.
Coordinator for Off-Campus Student Services, Joyce Herold said that there are a lot of misconceptions of what Homecoming really is, but she hoped to expose students to the realities and choices through the rally.
"Students need to know they have an option outside of what many people feel is a stereotypical college event that consists of just drinking," Herold said. "Homecoming is about showing team sprit for your school, having fun with friends, watching the game. Sometimes that does include having a drink, but only if you're of age and within reason."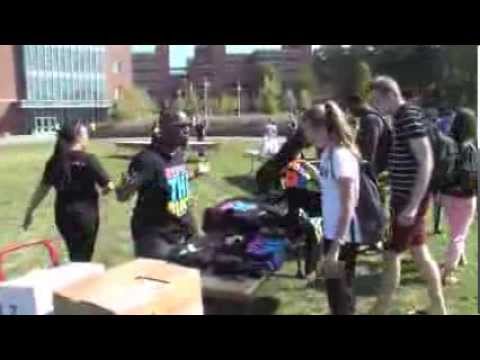 Herold said her main goal was to share with students that they need to think ahead, know what they are going to do and stick to it in a positive way in order to have responsible fun.
"We want to show students what it is like to have a positive celebratory event, and that doesn't consist of being a nuisance to your neighbors," Herold said. "We want students to be safe by choosing a more positive option."
According to Herold the tailgating party pre-Homecoming game will have alcohol suppliers, but the limit is six beers per students of legal age and they will be checking cards through the entire event.
Each faculty and group member working will be identified in their slogan T-shirts monitoring student behavior.
"If someone gets out of control we will address the issue directly," Herold said. "We will talk to [that person] and monitor their behavior by keeping an eye on them. But if someone gets completely out of control, it won't be a big deal for a Towson University police officer to take care of to make sure [that person] isn't a risk to themselves of others."
Herold said she felt it was important for students to know she is not working alone on the Positive Homecoming Committee, rather she has a full committee of nine students such as the Student Government Association, Queer Student Union, and fellow community ambassadors behind her.
One person who played an important role in the rally was Attorney General of the SGA, Andrew Key.
Key's speech emphasized three many points he hopes to accomplish from the Positive Homecoming Awareness Rally, which came with three accompanying graphic T-shirts.
"I want you to 'Quit Trippin,'" Key said. "Have respect for yourself and show self-control. Don't be that [person] who drank too much that is falling on the ground. Quit trippin' because Towson is our home."
Key said his inspiration for changing the policies for Homecoming's tailgating party was based on demand.
"A lot of students came up to me and asked what we were going to do about the tailgating polices," Key said. "That is when I decided this was a big enough issue, it became my personal initiative."
After coming up with many strategies on how to tackle this issue, Key said that based off the restrictions policies and the actual student activity, things didn't match up.
"That policy was only active for the Homecoming game [last year], while the rest of the games didn't have all of those extra precautions," Key said. "We felt if people can handle themselves at other games, why wouldn't be able to handle themselves on Homecoming? So this year, we changed that."
Small changes have been made, but the main change was raising awareness to civility and self-control before the tailgating event.
"It really is a privilege to be a Tiger as we do so many positive things in the community and around Towson," Key said. "[However,] you can do a billion different positive things but it only takes one bad apple that ruins the bunch. Make those good decisions and help your friends make positive [ones] because this only happens once a year."
SGA Senator Nicole Psoras said she was both happy with what the rally represented and what potential it holds for her freshman year tailgate Homecoming event.
"This is a great program that shows the aspect of what it represents," Psoras said. "You can have fun without doing negative things. [For me] Homecoming will give me new chances to meet people, make friends and get to know the campus a little bit better."
Senior Christopher Gavrilenkowsky said the rally reinforced his plans to be more responsible during Homecoming.
"Their message was very clear and positive," Gavrilenkowsky said. "I do plan on being responsible about drinking as I already am going to be the designated drive for my friends. I'm just looking forward to the good times Homecoming will bring."