Theater students offer groovy 'Night'
23 October 2013
By Carley Milligan, Associate Arts and Life Editor
No Comments
The Beatles, drug dealers and soft-core rebelling doesn't sound like a typical Shakespeare play, but senior acting major Alex Lewis said they are all a part of the theatre department's fall play, a more modern (and Mod) version of Shakespeare's "Twelfth Night." The play, a prank-filled and gender-bent tale of looking for love, is set in the 1960s, rather than the 1600s, when it was written.
Lewis, who plays Feste the fool, said, "You kind of got to amp it up as far as modernizing it. I do a lot of gestural 1960s things, also just because the 60s were a time where people were doing drugs and people are kind of rebelling."
The decision to modernize the play came from director and associate professor Peter Wray.
"The Mod look at least for women in fashion had a real androgynous feel, women started to cut their hair short, the silhouette of the clothes they were wearing, you couldn't tell if they were necessarily male or female. And that works really well with this play because there is a woman who needs to dress up like a man and pass herself off as a man," Wray said.
Wray's aim was to allow the audience to connect to the characters onstage through relatable themes expressed in the qualities of the Mod period.
"Everybody is exploring their identities, whether that be having to change clothes and become a male character, or whether that be a sense of freedom of exploration about who are we now, because we are all looking for love, and hopefully we aren't looking for love in the wrong places," Wray said.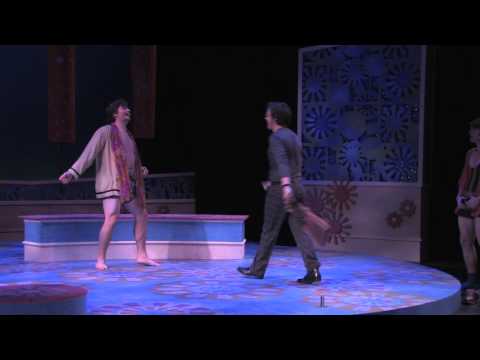 But Wray was surprised to learn that by performing "Twelfth Night," he was taking the theater department itself back to 1963 as well. He discovered that the 1963 production of "Twelfth Night" marked the first play that Towson Theatre Department students performed. This year also marks the 50th anniversary of Towson's Theater Department.
"This was all just a happy accident. No one planned this," Lewis said.
To celebrate, the play's Friday performance is Alumni Night, which Lewis said will be a test for the students putting on the play.
"I think it's going to be really cool to see some of the alumni and see what they think, if it's accurate," Lewis said.
Placing the play in this particular time period required to students to make some adjustments throughout the production.
"We have changed a few lines. There are some references of the time that wouldn't necessarily be understood or be logical for our concept," junior and actor Tanner Medding said.
Wray created many of the changes in advance, but Lewis said he worked frequently with improvisation during the rehearsal process.
"The songs that Feste sings in the play that are a cappella, he has crafted the melodies himself," Wray said.
Lewis explained that finding a way to compose and seamlessly incorporate the melodies of songs written during Shakespeare's time was his greatest challenge.
"They were written in 1600-something, so they are not really accessible to the music we know today. Trying to fit them into the whole 1960s vibe has been a little difficult," Lewis said.
For Medding, who plays the Duke Orsino, learning the Shakespearean language was the most challenging part of preparing for the performance.
"Orsino is primarily speaking poetic verse so it's just really hard. I have this rhyming line so I have to figure out how to bring it down so it doesn't sound like I'm speaking poetry but at the same time lift it up so its heard," Medding said.
However the most challenging part for senior and actor in the play Jess Liberatore was learning to master her split role as Viola, a young woman disguised as her brother, Cesario.
"It's been difficult for me personally to differentiate between this very feminine character because I myself tend to be a little masculine," Liberatore said.
Embodying your character is something that Wray said he believes is important to convey to his actors.
"I actually say this to all of my casts, whether I'm directing here or somewhere else, that 'you will do for the role' which what that does is it lets the person know that they have been cast, they have the job, they don't have to prove anything to anybody, that they are capable of actually approaching the character," Wray said.
The actors took this advice to heart, particularly Lewis who, according to Medding, can be found between scene rehearsals making jokes and puns in the style of his character.
"I'm not a drug dealer, let's not get crazy, but I'm 90 percent Feste all the time because busting jokes and busting people's chops is kind of what I do," Lewis said. "He [Wray] says he saw something in us that is perfect for our roles and he is trying to bring that out, though really we are all generally our characters off stage and on stage."
After six weeks of daily rehearsal and set construction and costumes by the theatre department, the students are ready for opening night Thursday, Oct. 24.
"A lot of really talented people are involved and I am really just excited for it to go up and for people to see Shakespeare told in a way that I think more people can connect to because that's difficult in this day and age," Liberatore said.