Trafficking prevalent today
2 October 2013
By Brandon Wharton, Staff Writer
No Comments
It's an issue that many people don't realize exists, human trafficking. During an awareness event on Oct. 2, 2013, Jeanne Allert sought to shed some light on a disturbing problem. Allert is the founder and executive director of The Samaritan Women, a nonprofit organization based out of Baltimore, which focuses on the exploitation of women and children domestically and internationally.
The Towerlight: How prevalent is trafficking in the Baltimore and Towson area?
JA: We don't know because right now the governor just had the first conference on sex trafficking and established that we would start data collection, but it hasn't been done. Baltimore County has different laws at the vice level than the other counties, so we don't know yet at the state level or at the county level how big the problem is.
TL: What do you think are the most important things that people need to know about trafficking—whether sexual or for labor purposes?
JA: The localized nature of it, the fact that it is in your own backyard. It is right here and we can't put the blinders on and say, 'I just moved to the suburbs, everything will be fine.' We can't just think that it's just [happening] on the block or the red light district… or poverty areas. That's not true because where you're going to see some of this activity really thrive is where the affluent areas are. People need to wake up out of their complacency.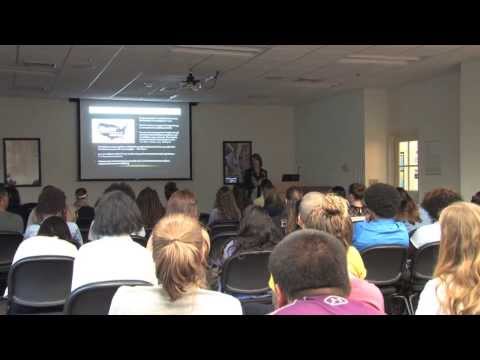 TL: What can people do to combat this trafficking, specifically in regards to the trafficking that occurs in the cotton, coffee, and chocolate industries?
JA: You can shop differently, you can still get some products. For example, we buy t-shirts and we go to a vendor who can certify that it's a fair-trade T-shirt. It may cost us 12 cents more per shirt but it's worth it. I always tell people change one thing but tell 10 why you did it. One of the best things that college students would love is that if you want to put a dent in some of these products shop at thrift stores. Then nobody is getting that dollar, that dollar has already been spent. Thrift shops are an untapped goldmine of fair trade.
TL: Where is Maryland lacking, both legislatively and when it comes to training our law enforcement officials?
JA: I think it's not just having the law, but enforcing the law. We have a lot of laws that people aren't doing anything about. For example, it's illegal to purchase a person for sex but if you don't do anything about the buyer, and in many counties we don't do anything about the buyer, it's still illegal. It's not only putting the laws in place but actively enforcing the laws is extremely important.
TL: How did you become so passionate about this issue?
JA: I was a part of a church ministry that was doing an outreach to women in prostitution. The more I got close to the ladies themselves and talking to them and understanding how [they] got here and how it happened. There's almost always someone who's instrumental whether it's child abuse in the home that sent them in this path, or someone who intervened in their life and promised them things or was a negative force in their life that got them into that work. It's just that by the time they make it to street-level prostitution they've probably already been run out a lot. I had no idea of the trajectory, and you get more and more mad. You start to say 'somebody should do something,' and then you realize that someone is probably you.
BW: What things do people need to look for, specifically when it comes to business that might be being used as fronts for human trafficking?
JA: Irregular activities, there was a house in a neighborhood… over a year ago that was rated as a brothel. It's just a regular residential house but there were 30-40 cars going out of there all day long. The cars were staying 20 minutes. That's not normal behavior in a residential neighborhood, so maybe there are drugs going on, or maybe it's something else.
BW: How can people get more involved in your organization?
JA: We do take volunteers. We also operate a large farm so we can take hundreds of people who just want to come down and work on the farm or just want to do a service day and come out and help with renovations, landscaping, cleanup, or whatever. We do take some volunteers, ladies in particular, who would be trained to work with our women. So if they want to, they can come down and teach a skill, or do a craft, or go on outings. It depends on what time and commitment they have to offer.