Dancers on 'pointe'
24 November 2013
By Carley Milligan, Associate Arts and Life Editor
No Comments
Though the flowers are wilting on campus, Towson dancers are getting the chance to bloom in their fall production.
The Towson University Dance Department is currently performing "Virtuoso," choreographed by professor in the Dance Department Runqiao Du.
The dance concert, directed every fall by Du, showcases pieces performed by not only the Towson Dance Company, but also the repertory classes offered at Towson and the Towson University Community Dance Program.
"I aim to have students create their own story. I share some of my thoughts or feelings but I don't share everything with them because I want them to dance their own and to create art," Du said.
Senior and dancer Katy Kauffman said that she uses this opportunity to express herself through dance.
"It just makes you feel like you are a part of something beautiful," Kauffman said.
She said that for her, the classical ballet elements of the piece were rewarding to perform.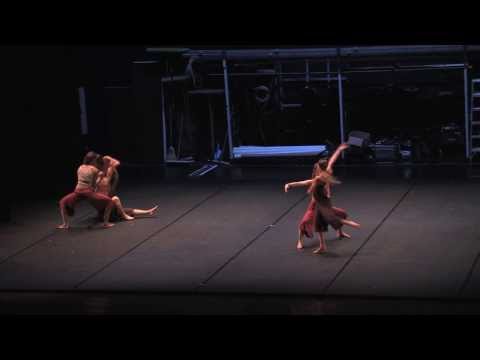 "It's just great to perform a classical ballet because it has been passed down through generations," she said.
In the performance, Kauffman is dancing in Du's re-staging of the dream scene from the ballet "Don Quixote." This piece is on pointe in the classical ballet form and a more natural kind of movement for dancers like Kauffman.
"With classical ballet it is what we study here at Towson…so learning it [the dance], we are very familiar with the technique and it's already in our bodies so we are just setting it to music," Kauffman said.
She explained how the other piece she is in, "Carmina Burana," is different and more of a challenge because of its contemporary ballet style. Furthermore, because the piece was choreographed by Du, it was heavily influenced by his movement styles.
"The challenge is getting to know [Du's] movement quality and style so that we can capture it ourselves and dance it the way he wants it to be done," Kauffman said.
Du said that for this piece he worked with organic movements and explored ways to extend the reach and limitations of the human frame while still incorporating ballet technique.
Another of the choreographers, professor Jaye Knutson, said she found inspiration from the patterns found in day-to-day life.
"Inspiration came from the idea that somehow in the course of a day or a life or a month we do things over and over, we revisit the same old patterns or practices or duties or tasks and many of us share those same kinds of activities in our own lives, separately," Knutson said. "But in this dance we experience them together, we kind of share them, collective routines and activities we do in a day."
She choreographed one piece for the show entitled "Sharing Iterations" for her modern repertory class. Set to what Knutson described as an instrumental, string, contemporary variation, the cannons in the music echo the iterations and phrases that are reiterated by the three dancers in the trio.
Many of the elements of modern dance are encapsulated in this piece. Level changes, idiosyncratic movements and improvisational movements are all key to forming the dance.
"You are going to see movements that are unique to myself as a mover or any one of the dancers as movers. Particularly in the phrases I asked them to create based on a theme or an idea," Knutson said.
She said she experiences a sense of community from the performance and hopes that the audience feels similarly.
"I want [the audience] to experience recalling times when people come together for specific reasons to share, and then they go away for different reasons. Revitalizing, reinvigorating or reaffirming I guess would be a good word for it," Knutson said.
Kauffman said that she also has hopes for what the performance conveys to the audience.
"I always want the audience to feel as if I am giving them a certain message or that they are feeling a passion that we are expressing to them on-stage," Kauffman said, "We perform for them so its great if they can actually feel something from when we are dancing for them."