Head of state
24 November 2013
By Tyler Beard, Staff Writer
No Comments
Terps show superiority over Tigers in rout
The Tigers couldn't keep up with the fast-paced Terps, losing to No. 8 Maryland, 90-53, Saturday night in SECU Arena.
"Tough game playing against the University of Maryland, who is one the best teams in the nations, but we got a lot of positives to take from this game that we can build on," Head Coach Niki Reid
Geckeler said.
Towson (1-4) started the game off by controlling the tempo and keeping it a close contest. After the first 15 minutes, the Tigers trailed the Terps 22-21.
But the Terps (4-1) were able to string together a 12-0 run to extend their lead to 34-22 with three minutes left in the first half and never looked back.
The Tigers shot 42.3 percent from the field in the first half, but were only able to shoot 24.1 percent in the second half.
The Terps dominated the second half, shooting a red-hot 72.0 percent from the field and outscoring the Tigers 44-23.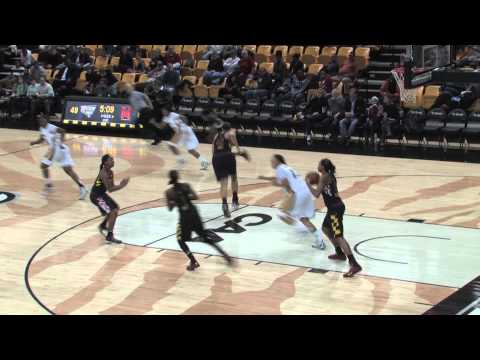 Despite the Tigers' ability to rebound well this season, Maryland was also able to out-rebound Towson 46-21.
"One of the big things we wanted to do coming here was really dominate the boards," Maryland Head Coach Brenda Freese said. "We knew Towson did a really nice job rebounding the basketball, so that was an emphasis for us tonight."
The Tigers did their best to keep up with one of the best teams in the nation, but the Terps' depth was too much.
Maryland was able to get 56 of its 90 points off the bench in the game.
One of the things the Tigers struggled with was keeping up with Maryland's fast-paced offense.
The Terps were also able to take advantage of transition points.
"It was a combination of things," Geckeler said. "We'd score and then we'd turn around and celebrate, and then in that moment they'd score on a transition on us. We're going to put a little more focus on transition defense."
Senior guard Tanisha McTiller led the Tigers with 25 points, shooting 8-of-19 from the field.
McTiller also had the task of defending senior forward Alyssa Thomas, who led the Terps with 15 points off of 7-of-12 shots from the field.
"The positives we can take are the defense we played in the first half and how we got them out of their comfort zone," McTiller said. "If we take away some of their transition points and some of our turnovers, then we're right in the game with them."
Towson will move on to play the UMBC Retrievers (1-4) in an in-state battle on Tuesday.
The game, which will be played at SECU Arena, is set to tip off at 5 p.m.