Ray Rice brings 'hope' to Towson
24 November 2013
By Matt Hamilton, Associate Sports Editor
No Comments
Professional athlete, actors, Md. first lady present "Links of Kindness" event
Grace McComas, a 15-year-old freshman at Glenelg High School in Howard County, committed suicide on Easter Sunday in 2012.
Cyber-bullying proved to be too much for the teenager, who left behind three sisters and her parents, Chris and Dave McComas.
McComas' death ignited an anti-bullying campaign on social media that caught the attention of stars like American Idol's Lauren Alaina and Baltimore Ravens' running back Ray Rice.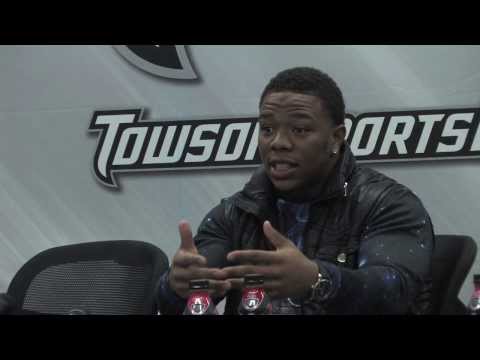 "That story just touched home with me. Ever since then it took off and spread like wildfire," Rice said. "I got to know the family. We went to a forum and talked about it, but we wondered. 'What were going to do next?'"
Rice decided to start an anti-bullying campaign.
He began the "Ray of Hope" campaign in May of 2012.
The campaign tours around the state in an attempt to curb bullying, which includes appearances at local elementary, middle and high schools. It is  also what brought Rice to Towson University Friday night.
Hundreds of Towson students were among the thousands who filled the seats at SECU Arena, both to cheer on their favorite player and to support Rice's cause.
"Obviously I'm a big fan of Ray Rice, but I think it's awesome him coming helping kids that have been bullied," senior Janine Mohlhenrich said. "We've all dealt with bullying at some point in our lives and it's definitely something that's important to prevent."
Rice echoed that idea, which he has addressed at various venues for over a year.
"I want [children] to just get along with each other and realize that they can all grow together," Rice said. "If you really want to get something done, we can all do it together. Be a team."
WBAL's Keith Mills emceed Rice's event, entitled Links of Kindness, in front of fans and supporters Friday.
Although his name headlines the campaign, Rice will be the first to say that he's not the only one fighting.
Mills introduced Chris McComas to the crowd, and she told them her daughter's story.
After the grief of her daughter's sudden death settled, Chris McComas knew that she wanted to make her voice heard on the subject of bullying, and Rice's campaign allowed her to do so.
"I believe that there have been pretty incredible synchronicities that have brought good out of a horrible situation and Ray is one of those things," McComas said. "I thought it would take years to make change, and the fact that we have some momentum means the world to me because that's how you honor your child."
Rice and the McComas first teamed up after Rice heard about Grace McComas' death. Rice and McComas began speaking at Howard High School and have continued raising awareness since.
One of their recent successes include their collaboration with Maryland first lady Katie O'Malley to get "Grace's Law" signed in May of this year.
"Grace's Law" expands the cyber-bullying restrictions to social media, the outlet that was used to bully Grace, as well as email.
O'Malley, who also spoke at the event, gave credit to both Rice and the McComas family for passing "Grace's Law."
"Ray Rice and the McComas family have been phenomenal in changing the way we address this cyber-bullying issue," O'Malley said. "Thanks to the McComas family, we now have this law in the books."
After the leading women of the campaign spoke, it was time for Rice to make his presence known. He brought with him two special guests: actor and motivational speaker Eric Martinez, and actor Quinton Aaron, who played Michael Oher in "The Blind Side."
Despite Martinez hailing from New Mexico and Aaron from Georgia, the two met Rice in Baltimore to help stop something that they were all too familiar with.
Aaron said that although he was a victim of bullying, his mother helped guide him out of it.
"The physical bullying was what did a number on me," Aaron said. "My mother always told me to think of bullying like a game. They were trying to score points by getting a certain reaction out of you. If you give them that reaction, you are giving them the winning points they need."
Next, the three hosts brought up a special guest named Malachi Guess.
Guess, 12, was bullied at his East Baltimore middle school, but stayed strong.
He was previously interviewed about his experiences for the USA Network, and Guess mentioned the Ray Rice "Ray of Hope" Campaign and noted that he wanted to be involved.
Martinez saw the interview and immediately wanted to help Malachi, an aspiring actor.
Martinez and Aaron brought Guess to the floor and surprised him with three cameos in upcoming films that each was involved with.
Guess and the rest of the crowd then joined in to raise links of paper that were situated below the seats, symbolizing the links of kindness that need to be present between children.
The event concluded with the showing of a 2011 movie "Bully," which tells the story of a handful of elementary and middle schools students and their experiences with bullying.
Rice, Chris McComas and the others said they will continue their fight in Grace McComas's name.
"The fact that we're talking about it is great," Chris McComas said. "[Grace] should be here, and in the absence of any justice, making change brings honor to her and hopefully some closure."