Towson wins second consecutive game by 20 points
12 November 2013
By Jesse Jones, Sports Editor
No Comments
Coming off its first win of the season over Navy on Friday, Towson continued play well against in-state opponents, this time beating cross-town rival Morgan State 95-75 Tuesday night.
The 20-point win marks the first time since February of 1992 that the Tigers (2-0) recorded back-to-back wins by 20 points or more.
"It's a really good win for us," Head Coach Pat Skerry said. "In my opinion, Morgan is going to win their league. They've got three all-conference guys and [Head Coach Todd] Bozeman does an unbelievable job. I was really worried about this game."
It was an all-around complete game for the Tigers, who had four players in double-figures.
Senior forward Jerrelle Benimon led the way with his first double-double on the season. Benimon scored 21 points and grabbed 14 rebounds. He also contributed six assists and two blocks.
Senior guard Rafriel Guthrie added 20 points, while senior forward Marcus Damas scored 17 and sophomore point guard Jerome Hairston contributed 12.
As a team, the Tigers shot 57.1 percent from the field and 56.3 percent from three.
"I feel like everybody contributed really [well] tonight. People scored, we played defense well, so I thought it was a great all-around effort," Benimon said.
Hairston, who had only five points, two assists and four turnovers in the first game of the season, came out strong on defense and played more aggressively and smarter on offense. He finished Tuesday night's game with five assists to only two turnovers.
"I have to credit that to my teammates," Hairston said of his play. "They make me look good and they knocked down jumpers. Jerrelle helps out a lot. He takes a lot of attention from me."
Three-point shooting has been a big difference for the Towson offense this season. Last year, the team shot 32 percent from beyond the arc, but in its two wins this season, Towson has shot over 40 percent from behind the arc.
Damas joked that the difference has simply been the presence of one player.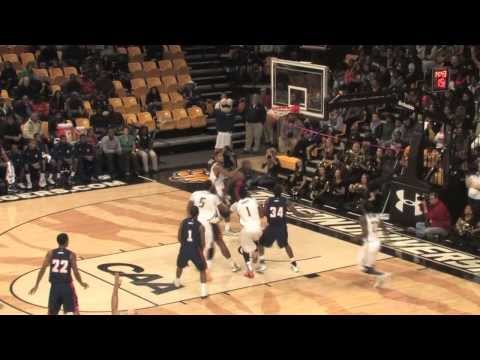 "We have Jerrelle on our team, so it's wide-open shots," he said. "… It's just a lot easier. We're getting used to each other, as well as spacing and practice."
Benimon continued to say after the game that shooting was a strong point of emphasis over the summer.
Senior guard Justin Black led the Bears (0-2) with a game-high 28 points.
The Tigers turned to he bench to limit the impact of Morgan State senior center Ian Chiles, who stands at just over seven feet. Chiles was limited to just six points on 3 of 11 shooting. He was also held to just one rebound, in large part because of the play of sophomore Timajh Parker-Rivera, freshman Walter Foster and junior Jamel Flash.
"I think our three guys inside – Flash, Parker and Foster – did an excellent job on Chiles defensively," Skerry said. "He's a problem for people. We were locked in."
Flash, who hadn't seen much court time since joining the team in 2010, had a key steal on an inside pass intended to Chiles in the first half and followed it up by completing an three-point play after getting fouled on a made layup.
"Jamel has really improved," Skerry said. "He had a good summer. He's going to help us this year. He's committed to defense and he's a great teammate. There are nights when we talk about our depth, and this was one of those nights where our depth paid off for us."
After trailing 10-9 with 16:28 to play in the first half, Towson used a Benimon three-point play to spark a 15-6 run, and never looked back from there.
Defensively, the Tigers held the Bears to 42.9 percent from the field and 26.7 percent from three. Towson also won the rebounding battle 39-30.
Towson will now turn its attention to the Temple Owls (0-1) of the American Athletic Conference. The Owls, who made the NCAA Tournament last season, won last year's game in Philadelphia 72-61.
"We played them last year, so we kind of know what to look for a little bit," Benimon said. "They lost a bunch of players but they brought good players in again. This time we get to play them at home and I think we'll be ready."
Tip-off for Thursday night's game at SECU Arena is set for 7:30 p.m.