'Brave' new group
8 December 2013
By Daryllee Hale, Arts & Life Editor
No Comments
Original Blend has first performance
When sophomore Allison Fisher came to Towson, she knew she wanted to get involved with music. But it wasn't until this semester that she really found her musical home.
"I became motivated to start a new a cappella group, a place where anyone would be welcome to express themselves creatively, through jam sessions," Fisher, a deaf studies and elementary and secondary education major, said.
That's when Original Blend was born, an a cappella group that began as a group of students who met in Freedom Square to practice and perform every Thursday.
"Someone walking by, during one of our jams, expressed an interest and joined our group. Friends began bringing other friends and our family started expanding," Fisher said.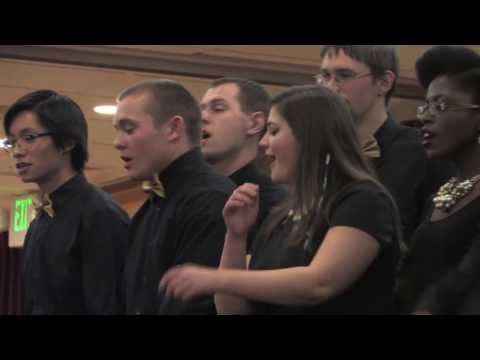 Now, the group practices every Thursday and Sunday.
Original Blend is different from the other a cappella groups on campus, Purrrfect Pitch and Tiger Tones, because it doesn't require an audition.
Fisher said that she sees the group as a place where every member can feel comfortable and just have fun.
That's why freshman Arielle Adler joined.
"Unfortunately, not being able to make it to the auditions for the other groups, I figured waiting another year wouldn't be the end of the world," Adler, a pre-occupational therapy major, said in an email. "Soon after, I met [Fisher]. From then on, the rest was history. Original Blend is such a great group of people and together we are able to create such beautiful music."
In addition to not requiring auditions, Original Blend's practices are unique. Fisher said that the jam session style of practicing allows each member to explore new ideas.
"Everyone is encouraged to try something new and to play around with the arrangement," she said.
Freshman mathematics major Taylor Brown is a member of both Original Blend and Purrrfect Pitch. He said that Original Blend stands out because of its laidback nature.
"My favorite part is that you don't have to audition so it's just people who really like to sing come," he said. "And we're actually pretty good. We don't have any weak members or anything."
Original Blend made its debut Dec. 7 at Tiger Palooza with Purrrfect Pitch and the Tiger Tones. For their performance, Original Blend performed arrangements of the songs "Brave," originally by Sara Bareilles, and "Fly Me to the Moon," originally by Frank Sinatra. Fisher said that the group was invited to perform just three weeks before the event.
"We were all ecstatic and shocked because we had like three weeks and we were not ready to perform," she said. "So it was stressful, but amazing."
Senior elementary and special education major Megan Herman attended Tiger Palooza. She said that she enjoyed seeing a new group perform.
"I thought they were a fresh, new take on a cappella," Herman said.
And in the end, Fisher said that it was worth the hard work to get the chance to perform.
"It was fun for me but it was so wonderful just to be with everyone else and perform and to watch the video back and see how much everyone grew that was a part of it," she said. "I was just proud of everyone who was by my side."
The community aspect of Original Blend is a major part of the group's dynamic.
"I don't think any of us knew each other before we started showing up but it doesn't feel that way at all," Brown said. "We're all really close."
But the a cappella community doesn't stop with Original Blend. Brown said it exists among all of the groups.
"We all love each other so much and we're really excited for Original Blend to step up and show everyone what they've got," he said.