Damas scores 1,000th point in Towson win
27 January 2014
By Jesse Jones, Sports Editor
No Comments
Three years ago forward Marcus Damas and Head Coach Pat Skerry were struggling to get through the worst season in program history.
The then-sophomore was tied for the team lead in points with 12.5 per game with center Robert Nwanko. However, he was only shooting 35.6 percent from the field and 31.4 percent from three-point range.
Fast forward three years and the senior's percentages are up to 42.7 percent from the field and 41.4 percent from beyond the arc.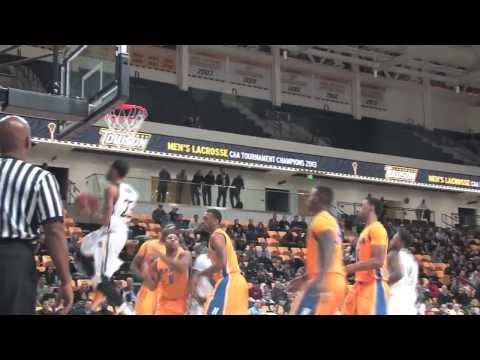 The 6-foot-7 New York native continued to improve on the court Monday night, as he helped guide Towson to a 76-58 win over visiting Hofstra, and in doing so, scored his 1,000th career point. He is only the 23rd player in Towson history to achieve that mark.
"It was mentioned to me, but I didn't even know about it," Damas said after being asked if reaching the accomplishment was on his mind heading into Monday night's game. "But we have bigger things ahead of us. I had a big matchup tonight and that's what I was focused on."
Damas scored 15 points on 6-of-13 shooting (46 percent) from the field and grabbed five rebounds in the win. For Skerry, seeing the only remaining starter from his first year reach that milestone is special.
"I'm extremely proud. I love this kid," Skerry said. "He's got one more class to get his degree; that's the most important thing. … He's become a really good player in our league that has helped change the program and he's going to have a chance to continue playing after college. He means a lot to me."
Damas wasn't the only player for Towson (13-8, 4-2 Colonial Athletic Association) to have a big game. As Skerry put it, it was one of the most complete games he's had from his team all season.
Senior guard Mike Burwell scored a team-high 17 points while grabbing five rebounds and dishing out three assists. Senior forward Jerrelle Benimon recorded his 14th double-double of the season with 15 points and 10 rebounds, while senior guard Rafriel Guthrie scored 14 points off the bench and sophomore Four McGlynn notched 11.
"Obviously the last two games were slow starts for us," Burwell said. "We put our minds to try to come out here and really put pressure on them in the first half. We started off with fire and energy and the crowd helped us a lot today."
As Burwell alluded to, slow starts hurt the Tigers against Northeastern and Delaware, being down 19 and 15 at the half to both teams. Monday night, Towson shot 48 percent from the field in the first half and finished the game shooting 47.2 percent. Towson held Hofstra (7-14, 3-3 CAA) to just 35.3 percent in the first half and took a 40-29 lead into the intermission.
"I know I've been in a shooting slump lately, so personally it was good to get myself going," McGlynn said. "It was good for the team. We started the game with three or four straight stops. And it was really good to convert baskets early because like Mike said, we've been spotting teams early and making it hard on ourselves to come back. I think today we did a really good job of not allowing teams to have a lead early and having to fight back."
A key in Towson's first half success was limiting the minutes of Hofstra graduate forward Zeke Upshaw. Upshaw, who leads the team with 18 points per game, committed three early fouls and missed much of the opening frame.
Despite that, Upshaw still managed to score a game-high 20 points, but shot just 7-of-17 from the floor and only 2-of-8 from three-point range.
The Tigers only allowed one other member of the Pride to score in double figures; guard Dion Nesmith scored 15. The Tigers also outrebounded the Pride 47-26.
"To me, it's a thing of beauty when you can win by that on the glass and hold a team under 40 percent (from the field)," Skerry said. "That's what we pride ourselves on. If we guard and rebound, we've got enough players that eventually we'll score the ball; we'll get on a run, we'll make enough shots to really elevate ourselves."
The Tigers will now get a welcomed few days of rest, as it had played three games in the past six days.
Towson's game Wednesday at UNC Wilmington has been postponed due to probable inclement weather, meaning it won't play again until it hosts the Drexel Dragons on Saturday, which is also Autism Awareness Day.
The Tigers beat the Dragons in Philadelphia on Jan. 14, 80-68, but Skerry is not overlooking them in any sense.
"Our guys have great respect for Drexel. They know how good they are; how physical they are," Skerry said. "Hopefully we have enough ice, guard pads and bandages to be ready for that game."
Saturday's tipoff from SECU Arena is scheduled for 4:30 p.m. and the game can be seen on NBC Sports Network.