Tigers lose on 35-foot buzzer beater
23 January 2014
By Jesse Jones, Sports Editor
No Comments
Coming into Wednesday night's game against reigning Colonial Athletic Association regular-season champion Northeastern, Towson was riding a season-high five-game winning streak.
The Tigers had just earned two CAA wins on the road at Drexel (80-68) and the College of Charleston (72-57) and were looking for their sixth straight win for the first time since early in the 1994 season.
However, the visiting Huskies had other plans, as they held off a late Tiger run to win on a buzzer-beating three from sophomore forward David Walker.
Walker, who had been serenaded with "air-ball" chants much of the game after air-balling a three-pointer earlier, got loose off a screen after three free throws from sophomore guard Four McGlynn that tied the game at 54 with six seconds left.
Walker then sank the three from 35 feet out with three seconds left to give Northeastern (6-14, 3-3 CAA) a 57-54 road win.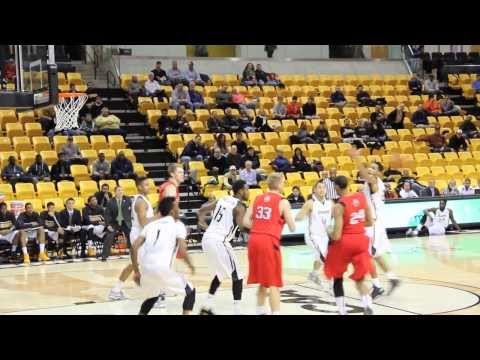 "[Northeastern Head Coach Bill Coen] drew up a good shot," Walker said after the game. "That play has worked before and Marco [Banegas-Flores] pushed it down. He made a good pass and fortunately my guy played far off me."
The loss is Towson's first home loss in its last 14 games dating back to last season, and gives the Tigers a 3-1 conference record and a 12-7 mark on the season.
"It should never have came to the last shot. One play doesn't determine a basketball game," Towson Head Coach Pat Skerry said.
Although the last shot sealed the victory for the Huskies, it was a poor first half that really hurt the Tigers.
Towson shot just 26.9 percent (7-of-26) from the field in the first half and allowed Northeastern to shoot 56.5 percent (13-of-23) in the opening 20 minutes. Northeastern junior forward Scott Eatherton also scored 15 of his team-high 19 points in the opening frame.
The Huskies took a 40-21 lead going into the half.
"[There was] a lack of energy, effort," Senior guard Rafriel Guthrie said. "They beat us to the ball, outrebounded us, just played harder than us. The last shot didn't lose the game for us, the first half lost the game for us."
The Tigers played much better defensively in the second half, holding the Huskies to just 21.7 percent (5-of-23) from the field while shooting 38.1 percent (8-of-21) and outscored the Huskies 33-17.
Senior forward Marcus Damas scored a game-high 21 points on 6-of-11 shooting, including 5-of-9 from three-point range. Guthrie added 10 and McGlynn scored 9, but senior forward Jerrelle Benimon was held to a season-low six points while grabbing 13 rebounds. Benimon also scored six in the season opener against Navy.
As several opponents have all season, Northeastern used a zone defense to slow down the Tiger offense. Despite finding holes in the zone, Towson missed several three-pointers to fall behind quickly. Towson also struggled mightily from the charity stripe, as it made just 18-of-29 (62.1 percent).
"We can't get into, 'We're gonna jack threes and outscore people.' We have to guard. We didn't guard for the first 20 minutes," Skerry said. "… I didn't like how we played offensively and zone sometimes confuses us. But, we're built to guard, and if we don't guard we're going to be in trouble. Hopefully we learn from it."
The Tigers now switch their focus to conference leader Delaware, who is the lone undefeated team left in the CAA with a 5-0 conference record and 13-7 overall record.
For Guthrie, Saturday's road matchup is a must-win after what he described as a wake-up call Wednesday night.
"We got to bounce back. It's not how; we got to. We got to go get a win out in Delaware against a good team," he said. "It's going to be all-ahead tomorrow after we go to practice. … It woke us up. It let us know one half can't beat a team. You got to play two good halves."
Saturday's game is scheduled to tip-off at noon from Newark, Del. and can be seen on Comcast SportsNet.