Damas's time to shine
19 February 2014
By Jesse Jones, Sports Editor
No Comments
Before senior Marcus Damas takes the court, inspiration is just a call away.
The 6-foot-7 forward calls his mother, Martine, prior to each game. While Damas was in high school, Martine was diagnosed with breast cancer. Six years later, she's cancer free, alive and well.
"Just being a kid, it directly just scared me right away," Damas said. "My mom, she just was always strong about it and she just really inspired me, like nothing could be that bad. She's still surviving to this day."
Along with his mother, Damas also has his cousins to look to for motivation. One cousin, Tobias Harris, plays in the NBA for the Orlando Magic, where he is averaging 13.7 points per game. Another cousin, Tyler Harris, plays on Providence College's team.
"When we're back home, we spend countless hours in the gym. That's all we do," Damas said. "We wake up, we work out. They've made me better; I've made them better. We're just basketball junkies."
Since getting into the starting lineup his first year at Towson, Damas has been a regular scoring threat. And on Jan. 27, he became the 23rd player in program history to reach the 1,000-point mark in a 76-58 win over visiting Hofstra.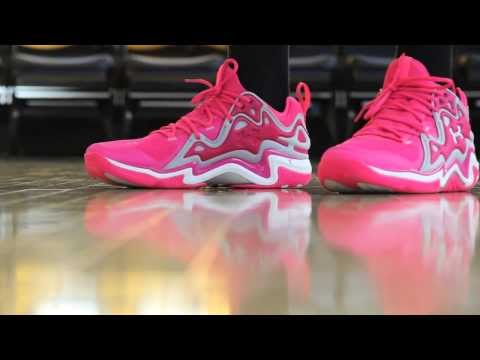 "It's a blessing to be tied to Towson's history," he said. "One of my best friends, [senior forward Jerrelle Benimon], gave me the assist. It was just that much more special."
Head Coach Pat Skerry, who recruited Damas before the 2011-12 season, was thrilled for Damas after he reached that milestone.
"I'm extremely proud," Skerry said after the Hofstra game. "He's become a really good player in our league that has helped change the face of our program. I love the kid, my family loves the kid … he means a lot to me."
Reaching the 1,000-point mark was no fluke, either.  Damas' numbers have increased in terms of field goal percentage and three-point percentage from his sophomore year.
As a sophomore, he tied for the team lead in points per game with Rob Nwankwo, averaging 12.5 per game while shooting 35.6 percent from the field and 31.4 percent from three-point land.
Last season, he was second on the team in scoring with 11.4 points per game, while shooting 43.4 percent from the field and 30.4 percent from three – including a game-winner at Oregon State.
This season, Damas is still second on the team in scoring with 11.7 points per game, and while his field goal percentage has slightly dropped to 43.2 percent with four games remaining in the regular season, his
three-point percentage has jumped all the way to 38.1 percent.
"Since I got here, Skerry had a plan for me. I went with it. I'm always in the gym [for] countless hours," Damas said. "When I got here, I wasn't really a good shooter, and that's just something I wanted to improve on throughout my career."
Coming out of high school, Damas was a McDonald's All-American candidate at Bayshore High in New York. He averaged 17 points and seven rebounds his senior season, but because of grades, he had to go to
junior college before he could step on the floor for a Division-I program.
Damas played one year at Westchester Community College before Skerry was able to lure him into becoming a Tiger.
In their first year together, the coach and player duo struggled through a 1-31 season, the worst in program history.
"That year, it was a great group of guys, but not exactly as competitive. [We were] just not where we are right now as far as culture," Damas said, reflecting back to that season.
Last season, Damas was part of that NCAA record-setting program, but despite winning 18 games, the team could not participate in postseason play because of test scores from 2010.
This year, the Tigers have already matched last season's win total with an 18-9 overall record. They currently stand as the No. 2 seed in the Colonial Athletic Association, and hold a 14-1 record at SECU Arena.
"Right now, I have a whole group of guys that just love to work," Damas said. "It's just what Skerry is looking for, as far as teammates and the goal. Everybody's goal is in order."
Damas will also have the opportunity to play in the postseason for the first time in his career this season.
The CAA Tournament, from March 7-10, is being held right in Towson's backyard at the Baltimore Arena.
While Damas said he never envisioned this program hosting the conference tournament two years ago, he believes this year's team has what it takes to win.
"I just think we need to stay consistent and just do what we do. It's nothing special," Damas said. "I think we have the formula to win the CAA. We respect every opponent and just continue to play hard."
If the Tigers hoist the CAA title, they will receive an automatic bid into the NCAA Tournament, something that Towson has not accomplished in 23 years.
"It would be a dream come true," Damas said.