Losing ground
16 February 2014
By Tyler Beard, Staff Writer
No Comments
Towson drops conference games to Drexel and Delaware
Towson could not get momentum in the second half of its game against Drexel Friday, falling 60-43 and for its second straight loss.
Towson (11-14, 5-7 CAA) kept it close in the first half, as the score was tied at 17-17 with five minutes left to play.
But Drexel (12-11, 7-3 CAA) went on an 8-2 run to end the half, which ended up setting the tone for the second half.
The Tigers played with a deficit the whole second half, but brought it to within three with just over 10 minutes left in the game.
However, Towson only managed to score four more points in that time and Drexel ran away with the win.
Senior guard Tanisha McTiller led the team with 14 points, but only managed to shoot 6-22 from the floor.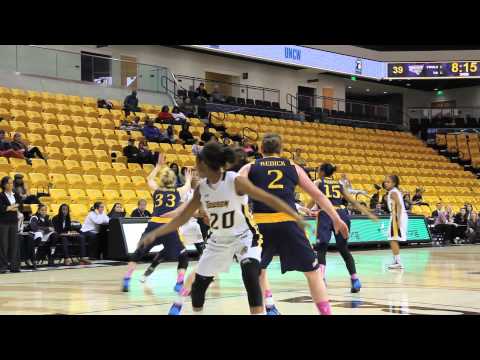 In fact, the Tigers managed to shoot 31.7 percent in the game, which included 3-19 from beyond the arc.
Sophomore guard Domonique Johnson finished the game with 12 points and junior forward LaTorri Hines-Allen had eight points.
The Tigers missed senior forward Nyree Williams, who was diagnosed with a season-ending ankle injury.
Williams finishes the season averaging 5.3 points per game and also 7.3 rebounds per game, which is second on the team.
Losing Williams is big for a Towson team that was starting to make a run, thanks to their down-low presence in Williams and Hines-Allen.
After a loss Sunday to Delaware, Towson will face William & Mary at SECU Arena Saturday, Feb. 22. Tip is set for 7 p.m.
The Tigers have four conference games remaining before the CAA Tournament, which starts March 13 in Baltimore.
"We're taking one game at a time right now so we're focusing on William & Mary on Thursday," McTiller said. "We've proven throughout the season that if we stick to the game plan and go hard for 40 minuteswe'll be successful so we hope to get our first of the four wins Thursday night."