Tigers fend off Hoyas
23 February 2014
By Tyler Beard, Staff Writer
No Comments
Towson ends two-game losing skid, defeats Georgetown, 8-7
Towson was able to rebound from its lopsided loss against Loyola, as the Tigers took down the Georgetown Hoyas, 8-7, at Johnny Unitas Stadium on Saturday.
"I'm extremely proud of our team with the way they came out today; with great energy and great hustle from the start," Head Coach Shawn Nadelen said.
Towson (2-2) came off a sluggish game on Wednesday at Loyola and picked things up early against Georgetown (2-1), with 15 shots in the first quarter.
The shots weren't falling in the first half though, as the Tigers trailed the Hoyas 4-3 with under a minute left in the first half.
But a solid pass from senior attack Thomas DeNapoli set up a goal for junior midfielder Greg Cuccinello, which tied the game at 4-4 going into halftime.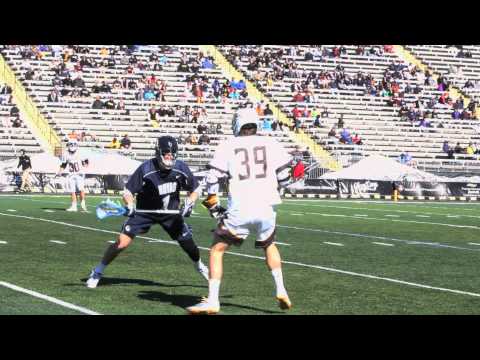 "We knew this was going to be a scrappy game and we knew we're going to have to make those hustle plays," Nadelen said.
The Tigers came out in the third quarter with poise, with two quick goals from DeNapoli and senior attack Devin Grimaldi.
Cuccinello would then score his second goal of the game to close out the third quarter, which gave Towson a 7-4 lead going into the fourth quarter.
"Today, we didn't play that great offensively, but you could just see the hustle plays making things go our way, which was because of our energy," Cuccinello said afterwards.
Things would get interesting in the fourth quarter though, as Georgetown attack Jeff Fountain scored a goal with 33 seconds left in the game, which cut Towson's lead to 8-7.
However, the Tigers would win the ensuing face-off and run out the clock to get their second win of the season.
Cuccinello, who now has seven goals this season, said his team never doubted the win.
"We were confident the whole way," Cuccinello said. "We knew from the first quarter that we were hitting our spots and weren't finishing them, but throughout the game if you can get shots off, you know they'll
fall eventually. We just had so much confidence."
Sophomore goalie Tyler White played a huge part in the team's win, tallying 13 saves.
"This was probably my best game," White said. "Coach [Nadelen] gave us a great game plan and we just executed today. We were confident enough in our offense to get to their spots and defensively, we knew if
we could just keep holding them, then our offense would come through."
DeNapoli finished the game  with two goals and four assists in the game.
Nadelen said he was pleased with the team bouncing back from their previous two losses.
"From the way our two previous games went and for our guys to rebound both mentally and physically and be able to play the way they did shows a lot of character and I'm excited to see where we go from here," Nadelen said.
Next up for the Tigers is a home game against Mount St. Mary's, which has lost all three of its games so far this season.
The Mount previously faced Georgetown on Feb. 12 and lost 10-4 on the road.
Three different players for Mount St. Mary's have scored two goals, and the Mount has used two different goalkeepers throughout the season.
Face-off against the Mount on  Saturday is scheduled for 1 p.m.