Tigers pick up big win over Delaware
17 February 2014
By Jesse Jones, Sports Editor
No Comments
Before Monday night's conference matchup with rival Delaware, Towson had hosted several big games at SECU Arena.
The Tigers christened their new home with a win over Navy, defeated an established Temple program and took down Drexel on Autism Awareness Day.
But Monday night's game was the most important thus far, as the Blue Hens entered the game a perfect 11-0 in conference. The Tigers were just three games back in second place with four games still left before the Colonial Athletic Association Championship.
The Tigers stepped up to the challenge, avenging an 83-76 loss earlier in the season by playing one of their best games of the season in a 78-63 win in front of 4,003 people on national television.
"I told our guys it's what we try to recruit them for," Head Coach Pat Skerry said about the crowd and importance of the game. "We sold them on playing meaningful games in February and that's what I came here for."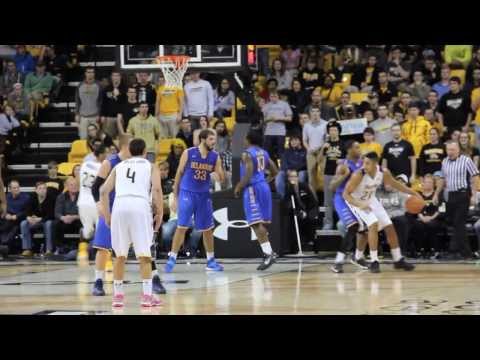 As he's done since he took the floor last season, forward Jerrelle Benimon led the Tigers (18-9, 9-3 CAA) with one of the best performances of his career.
One game after reaching the 1,000-point mark, the senior recorded his nation-leading 18th double-double of the season with a game-high 25 points, 18 rebounds and five assists.
"For some reason I usually have a relaxed first half and then get it going in the second half, but it was good, I guess, to jump out early in the first half," Benimon said. "Then I feel like everybody else jumped out in the second half more than we usually do."
As Benimon alluded to, several key players stepped up for Towson. Senior guards Mike Burwell and Rafriel Guthrie finished with 17 and 15 points, respectively, while sophomore forward Timajh Parker-Rivera contributed 11 points and nine rebounds.
In fact, Burwell was a catalyst in a late run that pushed the Tigers to a double-digit lead.
With 8:15 remaining in the game, Burwell drove to the basket and emphatically slammed home a one-handed dunk over a Blue Hen defender. The dunk propelled the Tigers to an 11-3 run over roughly a five-minute span.
"I was really just in the moment. I saw the opportunity there," Burwell said. "TJ heckled me in the first half because I tried to dunk that one time on a fast break. He told me I was an old man, so I had to show him how to do it."
From there, the Tigers held off any late surge by the Blue Hens (19-8, 11-1 CAA) with their physicality. For the game, Towson outrebounded Delaware 50-38, including 21 offensive rebounds.
"I thought our first-shot defense was pretty good tonight," Delaware Head Coach Monte Ross said after the game. "We just didn't get a handle on boxing out as well as we needed to, and being able to come up with those big rebounds when we needed to."
But not all was bad for the Blue Hens, who benefited from spectacular guard play as they have all season.
Senior guards Devon Saddler and Davon Usher scored 18 and 24 points, respectively, and senior forward Carl Baptiste added 10 points and 12 rebounds.
However, Delaware was without one of its top players in Jarvis Threatt because of suspension, and shot just 31.7 percent from the field for the game.
"They just out-toughed us this game," Saddler said.
Towson will now turn its attention to a Northeastern team that has not lost to the Tigers under Skerry.
On Jan. 22, the Huskies handed the Tigers their only loss at SECU Arena all season with a 57-54 buzzer-beater win.
Thursday's game will also be the first of three straight road games before Towson concluded the regular season at home against William & Mary.
"We told [our players] right after the game … no one in this room has beaten Northeastern," Skerry said. "We got a major game there Thursday."
The Tigers will look to remain in contention to win the CAA regular season title and earn their first win against Northeastern in the Skerry era as tip-off from Boston is scheduled for 7 p.m. The game can also be seen on Comcast Sportsnet.